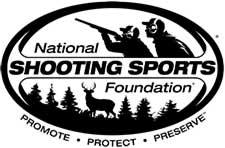 NEWTOWN, Conn –-(Ammoland.com)- The National Shooting Sports Foundation's YouTube Channel has reached a new milestone, surpassing 10 million views, with more than 3.7 million views in 2013 alone.
NSSF has cultivated a following of more than 56,000 subscribers, adding more than 29,000 new subscribers in the past year.
NSSF's YouTube channel, located at youtube.com/TheNSSF, is the firearms industry's top YouTube Channel and continues to gain popularity among new and experienced shooters and hunters, and firearm enthusiasts.
The channel currently features 300 videos, the majority of which provide expert instruction on target shooting, hunting, gun maintenance, competition shooting and safety, with the goal of encouraging more people to head to the range or afield. Among the channel's top videos are "Sight In Your Rifle in Two Shots" with more than 782,000 views, "Understanding Minute of Angle (MOA)" with more than 527,000 views, "Pistol Shooting Drill to Improve Accuracy" with more than 379,000 views and "Introduction to Range Safety and Etiquette" with nearly 250,000 views.
NSSF encourages the use of its videos, with attribution, by any organization, media outlet or individual that wants to promote the shooting sports and safe and responsible firearms ownership.
NSSF's videos are also available for free download through Apple's iTunes as a podcast entitled "Shooting Sportscast" in both high definition and standard definition.
Anyone interested in knowing when new videos are available can subscribe to NSSF's monthly Pull the Trigger newsletter or subscribe to NSSF's YouTube channel or to "Shooting Sportscast" on iTunes.
About NSSF
The National Shooting Sports Foundation is the trade association for the firearms industry. Its mission is to promote, protect and preserve hunting and the shooting sports. Formed in 1961, NSSF has a membership of more than 10,000 manufacturers, distributors, firearms retailers, shooting ranges, sportsmen's organizations and publishers. For more information, log on to www.nssf.org