This action is 2A FlashMob Approved, anyone attending will automatically qualify for their own FREE 2A Mob Patch.
By Frank Jack Fiamingo New Jersey –-(Ammoland.com)- The 3Ms are at it again. This time they are putting Bloomberg Money to work, desperately trying to condition the public to their distorted view that "guns equal violence".
They simply cannot fathom the actual fact that guns in the hands of law-abiding individuals discourage crime and violence.
So they are not wasting any time putting that Bloomberg money to use staging events all over New Jersey touting the documentary "Shell Shocked" by John Richie.
Screenings will be held in Plainfield on Friday 5/2/14, Cherry Hill on Saturday 5/3/14, Lincroft on Sunday 5/4/14, Jersey City on Monday afternoon 5/5/14 and Teaneck on Monday evening 5/5/14. Please click on the individual cities above for details.
The screenings will be followed by a panel discussion which will include the writer/director John Richie and others.
I think it is time for us to demonstrate the fact that there are VASTLY more of us who are passionate about our human right of self-defense and defense of family and loved ones than there are those who choose to openly INFRINGE upon that right.
We are the PROTECTED CLASS in this struggle. It is *OUR* human rights that are being violated. The right to Keep and Bear Arms (RKBA) is a preexisting, inalienable, human right that our Constitution declares SHALL NOT BE INFRINGED!
I ask that EVERY SINGLE MEMBER AND SUPPORTER of the NJ2AS pick a City and attend these screenings. LET OUR VOICES BE HEARD BEFORE WE ARE SILENCED FOR GOOD!
Frank Jack Fiamingo President – NJ2AS $smBlackLogoNj2as NOW IS THE TIME!! @NJ2ASPREZ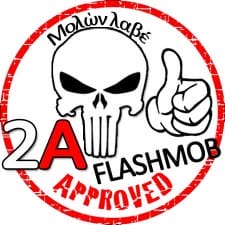 About:
New Jersey Second Amendment Society – Our mission is to promote the free exercise of Second Amendment rights within the community and Legislature of New Jersey, to educate the community regarding the enjoyable, safe, and responsible use of firearms, and to engender a sense of camaraderie and fellowship among the members and their families. Visit: www.nj2as.com
About 2A Flashmob: 
In an effort to motivate gun owners and Second Amendment Supporters to show up in person at important events and rallies AmmoLand Shooting Sports News is giving away FREE 2A Flashmob Patches to anyone who attends a protest, rally, open carry event, committee hearing at your state capital or a Moveon.org counter protest. (You may already be eligible)
Spread the word, get out, get active!