Massachusetts District Court rules in favor of Plaintiffs' right to possess firearms.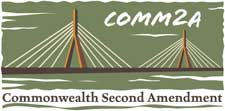 NATICK, MA –-(Ammoland.com)- In a case brought by Commonwealth Second Amendment, Inc. (Comm2A) on behalf of two individual plaintiffs, a U.S. District Court Judge has ruled unconstitutional the application of a Massachusetts law barring persons with convictions for simple drug possession from obtaining a License to Carry firearms when their convictions occurred out of state.
In his 14 page decision Judge Richard Sterns ruled that the law infringed upon the plaintiffs' Second Amendment right to possess firearms in their home for purposes of self-defense and the right to maintain proficiency in their use.
While those inside Massachusetts can seal their first conviction, individuals with convictions from other states had no such relief available to them setting up the challenge in this case.
Plaintiffs Michael Wesson and Thomas Woods were each denied firearms licenses due to single, decades-old convictions for possession of marijuana. Since 1971, Massachusetts residents with instate convictions for a single possession offense have had the option of sealing their record and regaining their Second Amendment rights. However, because their convictions took place outside of Massachusetts, Wesson and Woods continued to be prohibited persons in Massachusetts. Massachusetts voters decriminalized the possession of small amounts of marijuana in 2008, substituting a civil fine for criminal penalties and prohibited person status.
Judge Sterns ruled that the plaintiffs were denied their constitutional rights and should be entitled to the same standard of fairness.
A favorable outcome was all but assured when the Commonwealth agreed with Comm2A and conceded that the state had no public safety interest in prohibiting the plaintiffs from exercising their Second Amendment rights.
"We're delighted with the outcome of this action," said Comm2A President and Co-Founder Brent Carlton. "There's simply no rational justification for denying someone a fundamental right based upon something that's largely accepted by society and presents no public safety risk."
More Reporting on this win:
Commonwealth Second Amendment (Comm2A) is a Massachusetts based non-profit dedicated to preserving and expanding the rights of gun owners in the northeast. We are dedicated to promoting a better understanding of rights guaranteed by the Second Amendment to the United States Constitution. In addition to organizing and funding a number of exciting projects, our activities include educational programs designed to promote a better understanding of Massachusetts and Federal firearms laws and rights as well as programs to defend and protect the civil rights of Massachusetts gun owners. Visit: www.comm2a.org