Obsolete Arms and Ammo By Bob Shell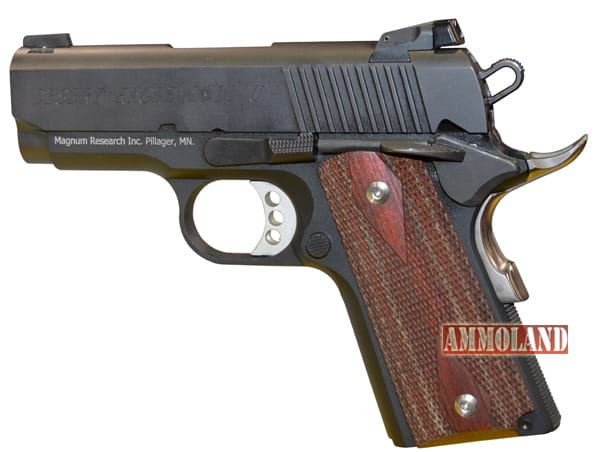 Apache Junction, AZ –-(Ammoland.com)- The 1911 45 ACP is one of the best known and best handguns for a reason.
They work.
The 1911 has been around for over 100 years and has a great track record. I just received a Magnum Research Compact 1911 with a 3" barrel and was excited to see how it will stack up against the 5" barrel model in accuracy and velocity.
Many companies make 1911 models in various sizes and it might be difficult to select just one since the vast majority are well made and reliable. I have worked with quite a few full size models but never a compact that was any good.
Here is the Quick Low Down on my Review Gun. The .45 ACP DE1911U has 6+1 round capacity, an overall length of 6.85″, height of 5″, and weighs just 25.8 oz. It comes standard with two 6-round magazines. It is a lightweight gun weighing 25.8 Oz with the 3" barrel MSRP is $946If you shop around you might find a better price. Here are some of the features that come standard with this gun.
Ships with two 6 round magazines
Skeletonized Hammer
Extended Magazine Release
Extended Thumb Safety
Checkered, Flat Mainspring Housing made from Aluminum
Stainless Steel Full-length Guide Rod
Bushingless Barrel
For the past 3 years, Magnum Research has offered the 1911G Government sized model with a 5″ barrel, the 4.33″ 1911C, and now they offer Undercover model DE1911U with a 3″ bull barrel featuring an 11-degree muzzle crown. The DE1911U is built on an ultra lightweight frame made of aircraft grade aluminum alloy and features a 4140 high carbon steel slide and adjustable rear sight for windage and elevation. Standard features include checkered front and back strap, double diamond checkered wood grip, and stainless steel hex screws. The DE1911U also has a high-rise beavertail safety, skeleton hammer, and an aluminum trigger. True to the earlier 1911 variants, this model is a Series 70 configuration. The .45 ACP DE1911U has 6+1 round capacity, an overall length of 6.85″, height of 5″, and weighs just 25.8 oz. It comes standard with two 6-round magazines. The DE1911U will be ready for shipments beginning in January 2014. MSRP is $946 This gun has adjustable sights but I would like to see a little white on them as that would help a shooter acquire them quicker. The trigger has some travel but breaks cleanly once the travel is done. It has the beavertail to prevent hammer bite. The grips are sharply checkered which would aid in gripping. I did have a couple of shooters comment that they thought that the checkering on the frame was a bit aggressive. The magazine holds 6 rounds plus one in the chamber and there are numbers and holes to let you know how many rounds are in it.
In spite of all of the hoopla about high capacity magazines if you can't take care of your problem with 7 rounds you probably need something more then a handgun. No I am not against high capacity magazines but I would depend on skill rather then how many rounds are available to me.
It comes with a spare magazine and anyone who carries it should have a couple of extras which is true of any semi. Usually the magazine fails before anything else on a quality semi. It comes with a nice carrying case. It has the typical 1911 safety and it is easy to work. You can release it with the hand holding the gun which might be important in some instances. The Winchester ammo that I used was both accurate and consistent. As expected it lost some velocity in this 3" barrel gun as opposed to a 5" model. However, it performed well and I would recommend it as an option. For more info you can go to www.winchester.com. The grip is comfortable and recoil wasn't bad in spite of its lighter weight.
Reloading for the Magnum Research model 1911 U If you are a reloader you are in luck with the 45. Everyone makes bullets of all styles and weights and even with the problem of getting material for the bullet selection is still quite good. There are many powders that work well and there should be something on the shelf of your sporting goods store that will work. Since it is a low capacity case fussiness is not an issue.
With a little attention to detail most 45 autos will feed some case bullets.
If you carry a 45 or use it for personal defense reasons factory ammo should be utilized and handloads for practice and target work. Due to the size and weight lightweight bullets may be better options. A company called CMA ( www.cmacustomammo.com ) makes an interesting 125 grain HP. It shoots well in other 45's I have worked with and he makes some interesting bullets in various calibers. If you are looking for something interesting to shoot give these a try. The Hornady Wad Cutters fed well and was pleasant to shoot. I had a few home made hollow points with a lot of exposed lead and they also fed. I had some 200 grain plated hollow points and had a couple of jams. My thought is the seating has to be adjusted because the shape is good and they feed in everything else I have tried.
Anytime you have a feeding problem with bullets that should feed try adjusting the seating depth before you give up on them.
With the Magnum Research model 1911 U's 3" barrel there is a definite loss in velocity as opposed to a 5" model with the same loads which is to be expected. One good feature that came to light is its ability to digest light loads. That enables shooters particularly recoil sensitive ones to shoot a lot without developing a flinch. Of course you have limited options on what you can do with any semi auto due to the mechanics but the more flexible the better. Shooting the gun is a pleasure and everyone who tried it liked it. Recoil is very manageable even with the 230 grain loads. Accuracy at 7 and 15 yards was outstanding with most loads. The better shooters could keep them in a 2" circle at 15 yards shooting offhand.
My friend's wife can put 5 shots into a 1" circle at 7 yards with that. There are two things to keep in mind. She is one of those folks that can pick up anything and shoot it well and of course the gun is capable of delivering that accuracy. Anyone who would be stupid enough to break into her house will have an excellent chance of narrowing the gene pool. The magazines are easy to load and there wasn't any functional problems except for the magazine mentioned.
Among the bullets tried, cast were included. They are inexpensive and easy to obtain so they should always be included in testing. The reason that they are more available is many shooters turn their noses up with cast bullets which is a mistake. Sometimes with cast bullets you might have to play around with seating depths more so then the jacketed verity but the end result is worth it. Also if you polish your loaded ammo in a rotary tumbler with torn up newspaper it will frequently make them more reliable. It makes the lead smoother hence easier feeding. As with any gun, you should try several brands of ammo and bullets if you reload. You will come across the one you should use for self defense.
For legal reasons your carry ammo should be factory fodder but you can handload a similar load to practice with.
In my view the Magnum Research model 1911 U's size and power makes it an ideal carry piece but for the night stand I would still have the full size model. I shot these loads in more then one 3" model and these are the velocities that you can expect.
Note that load 1 and 2 show a ½ grain increase of powder but the velocity jumped a lot. With the smaller capacity handgun cases that is fairly normal. That is why when working up loads be very careful on how much powder increase you use.
Because of the guns smaller size I focused mostly on the lightweight bullets. They are good self defense bullets for the most part and they do reduce the recoil. The company CMA who makes some novel bullets in various calibers. Their 125 grain HPs shoot well and there is a noticeable reduction in recoil. The 175 is one I have been making for some years and is a half jacket HP. For info on the unique CMA bullets you can go to www.cmacustomammo.com. Anyone who knows anything about ammo has heard of Hornady. They have been making high quality bullets and ammo for many years and their products should be tried in any gun. For info you can go to www.hornady.com The Double Tap ammo company has been around for a few years. They are growing by leaps and bounds and one of the reasons is their quality. Also if you are looking for warm ammo then this is where you should start. For info you can go to www.doubletapammo.net Another good source for good 45 ammo is Federal. They have been around a long time and anytime I test their ammo I get good results. For more info you can go to www.federalpremium.com These are just some of the sources that supplies ammo and reloading components so you have an excellent chance to find ammo or bullets to suit your needs. LOAD BULLET VELOCITY COMMENT
7.5 X 231 125 grain CMA HP 1053 potential
7.5 X 231 125 grain CMA HP new design 1088 ok
8 X 231 125 grain CMA HP 1212 great load
7 X 231 175 gr HM HP 996 accurate
4.5 grains of 231 185 grain Hornady WC 567 consistent
5 X 231 185 gr Hornady WC 722 super accurate
7.5 grains of 231 185 grain Remington HP 969 good load
Winchester 185 grain FMJ FP 827 nice
Hornady XTP 185 gr 832 consistent
Hornady Zombie 185 gr 881 consistent
Double Tap 185 gr 971 consistent
6.5 X 231 185 gr XTP 973 ok
Hornady Z Max Zombie 185 gr HP 1005 consistent
Hornady Critical defense 185 gr HP 1018 consistent
Hornady 200 gr Tap FPD 902 accurate
Double Tap 200 gr Bonded JHP 989 consistent
8.4 X HS-6 200 gr Berry HP 782 mild
5.4 X Tite Group 200 gr Berry HP 821 consistent
Double Tap 230 gr FMJ match 743 accurate
6.5 X Herco 230 gr cast RN 756 ok
6.5 X Herco 230 gr Ranier RN 722 decent
6.5 X Herco 230 gr Rem FMJ RN 739 nice
Federal AM Eagle 230 gr FMJ RN 723 consistent
Federal HST 230 gr HP 719 nice
Winchester 230 gr ball 723 ok
During the testing one of the magazines started to stick when you tried to remove it. Sometimes it was very difficult remove and a major problem in a defensive handgun. I notified Magnum Research and they immediately sent two new ones which work well.
It is evident that they take customer service seriously and that in addition to their good products makes them a good company to deal with.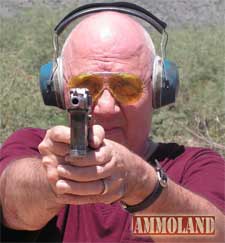 I had several people shoot it to get varying opinions on how it feels and shoots. A youth and female shooter were involved and both liked it and was able to handle it. Recoil wasn't a major complaint and of course light weight bullets will mitigate that to a fairly large extent. CMA makes a nice 125 grain HP that you can get to a velocity of 1,000 to 1,200 FPS without excessive recoil. Such a bullet would be effective in a social situation. With such a bullet, velocity can be increased a couple hundred feet per second but it would increase the recoil and for the most part I don't see the advantage.
If you are looking for a serious 3" 45 for self defense I would highly recommend the Magnum Research model 1911 U .
About Bob Shell A Custom Reloader of Obsolete and Antique Ammo, Bob Shell, writes about the subject of Guns, Ammo, Shooting and Related Subjects. Visit: www.bobshellsblog.blogspot.com