By Lars Dalseide
Wife gives hubby an AR-15 styled birthday cake at Friends of NRA dinner (from NRABlog)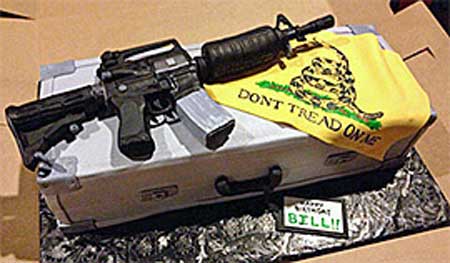 Charlotte, NC –-(Ammoland.com)- A few days ago, Elizabeth Mais dropped us a line from Connecticut.
She told us about the wonderful time she had last weekend at a Friends of NRA dinner. But she wanted to do more than just say thanks. She wanted to tell us about a cake.
As luck would have it, the date of the Friends banquet fell on the same day as her husband's birthday. So Elizabeth decided to sieze the opportunity celebrate the NRA, the shooting sports, and Bill's birthday all in one fell swoop. What better way to do that than with frosting?
Everything came together thanks to a little creativity by Elizabeth, Jenny-Lu's and their AR-15/Gadsden flag cake creation.
Here's Elizabeth with the full story:
Plantsville, Connecticut – Last year was my husband Bill's 50th birthday. Because I was unemployed at the time, I could not afford to give him the party he deserved. This year I wanted it to be special and it was. Bill's birthday happened to fall on the same day as the Friends of the NRA annual dinner. I thought, how perfect, an evening with good food, great friends, gun raffles, and camaraderie! What could be better than celebrating his birthday with 1300 fellow patriots!

AR-15 Birthday Cake

A few reasons why I wanted a rifle shaped cake. 1. We both love ARs. 2. I could not find the real thing! 3. In light of the ridiculous gun bans proposed here in CT, I thought an AR cake with the Gadsden flag draped over the rifle case was fitting. Both Bill & I strongly oppose any ban that restricts Americans from enjoying the best sporting rifle created. Bill has even testified at the state capital fighting against such restrictions.

Bill from Connecticut receives an AR-15 Birthday cake with a gadsden flag at a Friends of NRA dinner – photo by Brian Harte Finding a cake sculptor was not an easy task. The first few bakers I called refused to make the cake because it was, and I quote a "machine gun". Saddened and frustrated I was determined to find a pro 2nd amendment baker. Thankfully, my employer's wife referred me to Jennifer Montalto; owner of Jenny-Lu's in Middlebury, Connecticut. Jennifer brought my vision to life, creating the most beautiful cake I have ever seen. She truly is a cake artist.

My husband's reaction when first seeing the cake was Oh my God, that's a cake? The joy on his face was worth all the aggravation I went through.

Bill & I were so happy to be surrounded by people who share our love for the second amendment and support the NRA.

The one gift that I would have loved to give Bill was news that we have won the fight – that our rifles are ours to keep & pass down to our children.

Father's Day is around the corner, wouldn't that be a great gift. Until we win, please Stand & Fight!
About:Established in 1871, the National Rifle Association is America's oldest civil rights and sportsmen's group. Nearly five million members strong, NRA continues to uphold the Second Amendment and remains the nation's leader in firearm education and training for law-abiding gun owners, law enforcement and the armed services.Visit: www.nra.org