Students for Concealed Carry is Offering Travel Vouchers for Pro Gun Student Activists To Attend the 2014 Students for Concealed Carry Convention.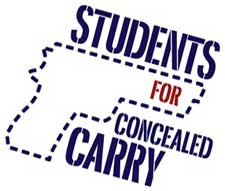 Washinton, DC – -(Ammoland.com)- Students for Concealed Carry along with Crime Prevention Research Center will be hosting their annual Education and Training event , the 2014 National Convention for Students for Concealed Carry, in Washington, DC on August 5th 2014.
In an effort to encourage increased student participation, the Crime Prevention Research Center ( CPRC ) is offering travel reimbursement vouchers for Air Fare and Hotel rooms for college age activists to attend.
"Disarming victims makes them attractive targets.  While the reaction by universities to create gun-free zones, is understandable, law-abiding individuals who get permits aren't the problem.  The creation of gun-free zones only makes it safe for the criminal." says John R Lott, President of the Crime Prevention Research Center.
The event will include debates, education and training for activists as well as panels including:
Women and gun-free zones on college campuses.
Alexandria (Allie) Lainez
Holly Adams
Nicole Goeser
Debate
John Lott, President, Crime Prevention Research Center
Chelsea Parsons, Director, Crime and Firearms Policy, Center for American Progress (not confirmed)
Academics
Joyce Lee Malcolm, George Mason University
Steven W. Dulan, Cooley Law School
Clayton Cramer, College of Western Idaho
Others possible
Trainers
Jan Morgan
Al Cannon, Sheriff, Charleston County SC
Legislators
Curt Oda, Utah, House Judiciary Chairman, will speak about Utah's experience with the law
Michigan Rep. Andrea Lafontaine, member of the state House Judiciary committee
We need everyone's help in getting students or relatively young people from around the country to the Students for Concealed Carry convention during the afternoon (noon to 4 PM) of Tuesday, August 5th in Washington, DC.
Event: 2014 National Convention for Students for Concealed Carry
Where: National Press Club 529 14th Street NW, Washington, DC 20045.
When: August 5th 2014
Event Times / Schedule: 12:00am – 4:00pm
About Students for Concealed Carry Foundation
Students for Concealed Carry Foundation, Inc. is a nationwide, non-partisan student organization founded to perform scholarly legal and public policy research, to educate the public concerning issues of civil liberties pertaining to firearms at postsecondary educational institutions through conferences and other media, and to engage in legal action when necessary to fulfill the objectives of the organization. http://concealedcampus.org/
About Crime Prevention Research Center
The Crime Prevention Research Center (CPRC) is a research and education organization dedicated to conducting academic quality research on the relationship between laws regulating the ownership or use of guns, crime, and public safety; educating the public on the results of such research; and supporting other organizations, projects, and initiatives that are organized and operated for similar purposes. Visit: www.crimepreventionresearchcenter.org