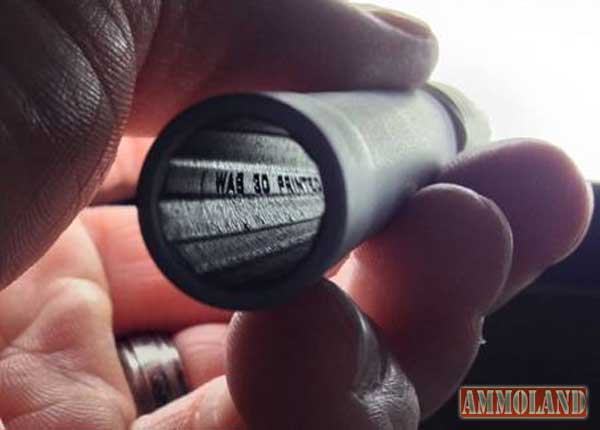 Austin, TX –-(Ammoland.com)- Mercury One is a nonprofit organization dedicated to charity and disaster relief aid. The organization is perhaps most recognized by their efforts during Hurricane Sandy, their donations to re-stock food banks and their push to install storm shelters in schools after tornadoes in Oklahoma.
Mercury One has a proclaimed mission to improve the human condition, partly with charity work and relief efforts and partly through preserving and restoring history to inform and educate future generations of Americans.
Part of that education includes recognizing the complex history firearms have held in America. Mercury One seeks to capture the significance of firearms advancements throughout history.
"Firearms are an integral part of our history," says Joe Kerry, President of Mercury One. Their historical collection is growing to be quite the commemorative historical museum, with their latest addition a rare 3D Printed metal pistol."
Mercury One will be acquiring a limited edition 3D printed metal pistol to showcase through their traveling collection. The pistol hit the international stage as the world's first 3D printed metal gun, accomplished by Solid Concepts Inc., in November 2013. Solid Concepts, a 3D printing and advanced manufacturing company, released news of their 3D printed metal gun through a now infamous YouTube video, which featured the gun being assembled and fired over 50 times.
The gun is composed of 38+ Stainless Steel and Inconel components 3D printed using a metal printer as well as a 3D printed nylon hand grip. Never before had a gun been 3D printed completely in metal and been proven completely functional. As of this month, the very first 3D printed metal gun has been through 4700 rounds without failure.
"Firearms are going to change just like they have over the past 200 years. Solid Concepts has taken us down the pathway of firearm evolution," says Kerry. "Mercy One houses and loans out the artifacts we collect. We believe the best way to preserve history is to promote it, and the best way to promote history is to bring it to the people."
So what exactly does it mean to manufacture a 3D printed pistol?
It's no simple process. Naysayers across a range of industries disregarded the value of 3D printing for such high stress applications, which is why Eric Mutchler, the Solid Concepts engineer behind the mission, ventured out to build the world's first 3D printed metal gun almost one year ago. 3D printing with metal begins with a process called Direct Metal Laser Sintering (DMLS) or Selective Laser Melting (SLM). These technologies work by melting metal powder with a powerful laser. Laser energy sparks along the metal powder, melting specific patterns layer by layer to create parts. Un-sintered powder is blasted away from the product, and build supports are carefully removed, during post processing. 3D printing with metal requires industrial machines and specialized metal workers to bring parts to full functionality and aesthetic completion. DMLS/ SLM 3D printers can cost anywhere from $400,000 to $1,000,000+.
Building a .45 caliber pistol with 3D printing proved the viability of the manufacturing process beyond any doubt. The barrel, with unique rifling 3D printed during the process, sees 22,000 psi with every bullet fired.
"We have been following 3D manufacturing since its early stages. When we saw what Solid Concepts was doing with their 3D manufactured gun, we thought this is the future and we wanted to preserve that," says Kerry.
The 3D printed metal pistol follows the original design plans of John Browning's iconic 1911 pistol. Adopted into the U.S. army in 1911, the Browning 1911 pistol remains a token in many gun collectors' homes and an icon in video games and movies today. While Solid Concepts hasn't announced plans to sell their first prototype 1911, they have released news of a limited run of 3D printed 1911 pistols, manufactured using the same engineering, machines and hand finishing as their first gun.
The company has stated it will only sell 100 pistols; from these few serials, Mercury One picked their own piece of history pie, so to speak. Solid Concepts has not released which serials remain, but information can be found by emailing their firearms division: [email protected]
"We are proud to display and share the 3D manufactured 1911," says Kerry, "and look forward to working more with Solid Concepts in the future."
About Solid Concepts
Solid Concepts provides rapid prototyping and custom manufacturing services, with capabilities in PolyJet, Stereolithography (SLA), 3D Color Prints, Selective Laser Sintering (SLS), 3D Metal Printing, Fused Deposition Modeling (FDM), CNC models and patterns, Composites, and QuantumCast™ advanced cast urethanes. Capabilities in tooling and injection molding make Solid Concepts a single source for product development and production efforts from conception to market. Visit www.solidconcepts.com to find your solution.