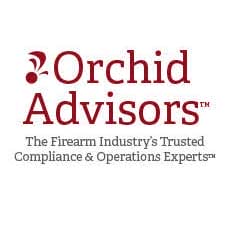 Hartford, CT –-(Ammoland.com)- Orchid Advisors, the only management consultancy dedicated to the firearms industry, announces the keynote speakers and program for its 2014 Firearms Compliance Conference on October 6-8, 2014, in Miami, Florida.
More than 50 speakers will hail from major manufacturers such as Smith & Wesson, Remington, and Colt; major distributors such as Lipsey's and Big Rock Sports; and government entities.
Keynote speakers will include Larry Keane, Senior Vice President and General Counsel of the National Shooting Sports Foundation; Rob Cicero, Vice President, General Counsel, Chief Compliance Officer and Secretary; Mark Smith, Vice President of Operations at Smith & Wesson; Wayne Decker, Senior Vice President of Operations at Big Rock Sports; and Jon Rydberg, Chief Executive Officer at Orchid Advisors.
"We are pleased with the involvement of top leaders at this inaugural event," says Jon Rydberg, Orchid Advisors CEO.

"We're hosting collaborative discussions amongst Federal Firearms License holders who seek to integrate new process and technology into daily operations to increase their business performance and regulatory compliance. Presentations will include and also expand beyond 'regulatory updates' to provide 'How To Solutions' that answer questions such as: 'I've been taught the regulations…now what? What serial number scanner should I use? What are manufacturer marking variances and when do I use them? What software best enables export control? What is the best practice for performing an inventory?"

"Solving these operational challenges is something of value that can't be easily found elsewhere," says the firm's CEO. And, due to interest in these topics, we are excited to confirm that the conference will continue to be held in South Florida in years to come, but that it will be moved earlier in the year to May 12-13, 2015."
This October, more than 50 companies will be driving conference discussions from major retailers like Cabela's, Dunham's Sports, Sports Authority, and Walmart; distributors like Big Rock Sports, Brownells, Davidson's, and Lipsey's; specialty suppliers like HTI Plastics, OCR Services, Oneida Molded Plastics, SSI Manufacturing, and Westfield Electroplating Company; global manufacturers such as CZ-USA, Maverick Arms, Remington, Ruger, Smith & Wesson, and Taurus; worldwide consulting and technology companies like BDO, Ernst & Young, IBM, Inxites, mBLAST, and Protiviti; and even associations and regulators like NSSF and the FBI.
The Conference curriculum includes education and training in the following conference areas:
    Preparing for and Excelling at ATF Inspections
    Firearms Supply Chain and Industry Economics
    Best Practices – Manufacturing and Import Compliance
    Best Practices – Distributor and Dealer Compliance
    Best Practices – Technology for all FFL Types
During pre-conference sessions, Orchid will also offer training sessions dedicated to ATF, Import, Export, and ITAR compliance.
The inaugural event continues to grow its impressive list of exhibitors and sponsors through recent commitments from: Smith & Wesson, Cognex, ARC MIM, Parmatech, OCR Services, Inxites, Business Automation Specialists and the FBI. And, to support broad conference access, a sponsorship by Smith & Wesson has made it possible for Orchid Advisors to offer a reduced price of $195 for single FFL retailers. Additional discounted rates are available for participants from Federal and State regulatory agencies who wish to significantly increase their industry process and systems knowledge.
More information about the conference can be found at:http://orchidadvisors.com/firearmscomplianceconference2014-registration
Pre-reglstration for the May 12-13, 2015 conference will not be available until the end of this year's show.
About Orchid Advisors – Transforming the Compliance Ecosystem
Orchid Advisors is a management consultancy that drives operational effectiveness, profitability and regulatory compliance. Unlike some consulting firms, our unique methodology provides process, technology and internal control solutions that achieve all three objectives at once. Our consultants derive their expertise from years served in Fortune 500, Federal Government and Global Business Consulting environments. Orchid Advisors is endorsed by the NSSF as a compliance information provider to its members. Orchid Advisors is an SAP Platform Partner. For more information, see http://www.orchidadvisors.com.