Obsolete Arms and Ammo
By Bob Shell
Apache Junction, AZ –-(Ammoland.com)- Recently I got to field test a Trijicon ACOG RMR Scope.
There are many good rifle scopes on the market and for a buyer there are several considerations to think about.
Usually the prospective buyer looks at the price of the product first.
That is one way of looking but you usually get what you pay for. The Trijicon line of products are not inexpensive so if cost is a major factor in your selection process you might want to look elsewhere.
If you are looking for a scope for serious work such as hunting or self defense and you are willing to plunk down the bucks then you might want to look over this product line. They have a good selection of various scopes and sights. They have other merchandise as well so I would take a few minutes to view their website to see what is available. Trijicon has been around since 1981 and have an ISO 9001:2008 Certification which means that they have a lot of satisfied customers.
All of their products are manufactured in the US a trait that is sadly lacking in many areas. The products have limited lifetime warranties so if something breaks you won't be left out in the cold.
As previously mentioned there are some really good scope products in today market so in the spirit of competitiveness Trijicon has come out with new and good products to successfully compete.
They do that well across many categories. They produce archery scopes as well as various iron sights. Many handguns can benefit from their night sights and there is a set in my future for one of my 1911 45's.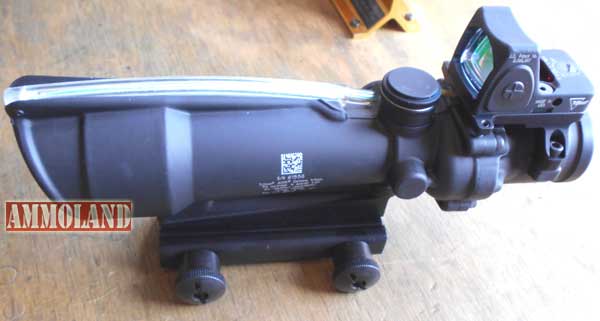 Trijicon ACOG RMR Rifle Scope
We mounted the Trijicon ACOG RMR Rifle Scope ( https://goo.gl/hcZYOA )  on a S & W M & P in 223. Once we got it sighted in it did well at 100 yards. It has a green arrow lit sight which is better for tactical use then target work. Hitting the 300 yard gong wasn't a problem. The sight picture is very clear which aids in long range work. I can see where this combo would work out in various situations.
Our guinea pig rifle, the S & W – M & P, performs flawlessly with various types of ammo both factory and handloads. The rifle is capable of good accuracy and the superior optics help bring out the best this rifle has to offer. For info on the M & P you can go to www.smith-wesson.com for info
Since this is a tactical rifle model we did some quick target acquisition exercises at varying ranges and target sizes. I wanted to see how fast we could acquire and fire shots, hitting the target. Because of the bright green arrow and wide field of view it performed very well. It picked up the target rapidly and the shooter was able to score.
My son did most of the shooting because he is a lot more coordinated then I am and we wanted to test the scope not the shooter.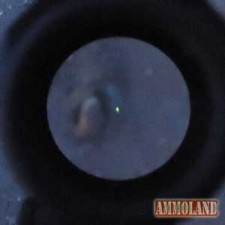 I can see where this would be a great scope for night hunting on hogs because of its light gathering abilities. We had it out at night and the lighting was good and targets within range were easy to pick up and score hits on. It would be a good choice for close up bear hunting in Alaska. If I had the chance to go bear hunting in Alaska I could see an ACOG mounted on a Ruger carbine in 338 RCM. That would be a great package for such a hunt.
The AR rifles are becoming popular for home defense and there are some good reasons for choosing such a weapon to defend your family. With the ACOG mounted on it, target acquisition in hurried and low light circumstances would be greatly enhanced. More often than not a home invasion occurs at night so you want something that can find the intruders and deal with them.
Also the ACOG may prevent you from shooting a non-combatant because of its light gathering ability. It seems that home invasions are becoming all too common so a weapon and sighting system that works in the dark will help shift the advantage to the home occupant and his family. That alone may justify the price.
As is my custom I have several people try out the Trijicon ACOG RMR Scope to get their thoughts. Experience doesn't matter I am interested in how comfortable they are using a product.
In my way of thinking it is more fair to review a product that way. I have done some T & E work on products that I personally don't care for though it might be a good item. With various hands on the project we get a better over view on it desirability and performance.
Several shooters of varying experience tried and liked it. They were impressed by the clear optics and it size. A compact scope is desirable for many hunting situations especially if carrying is involved. Even a pound or 2 can make a difference over a period of time.
With this scope, you have that compact advantage plus good optics. If you spend a lot of money on a guided hunt it is foolish to buy an inferior scope. Such a decision could cost you a trophy or even more. So while this is not an inexpensive scope it is well worth the money spent. The listed MSRP is $1279 which at first glance seems steep for a fixed three power scope.
In all honesty, you can buy a decent three power for a lot less and get some good service out of it but of course, it would lack some of the features of the ACOG.
Over a long period of time the less expensive optic may break more readily and during an expensive hunt that could be a serious issue. That is why they have so many scope variations and price ranges to suit all shooters.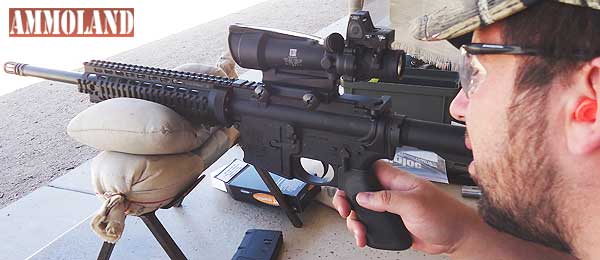 Over a period of time testing and using a lot of scopes of various price ranges there is one characteristic that separates them and it is observable. The more costly scopes definitely have better light gathering capabilities.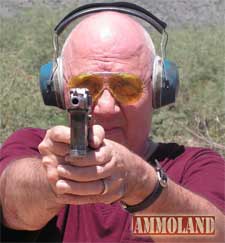 In a low light situation which happens fairly often in hunting the costly scope will enable you to take a shot where the lesser scope will be too dark or can't see the crosshairs.
If you are not confident in where the bullet will land the shot should be passed up.
If you want a good hunting combo I would recommend both the rifle and Trijicon ACOG RMR Optics.
About Bob Shell
A Custom Reloader of Obsolete and Antique Ammo, Bob Shell, writes about the subject of Guns, Ammo, Shooting and Related Subjects. Visit: www.bobshellsblog.blogspot.com