Are you looking for more cool gear options for your AK 47 or AK-74 rifle, then you might like to read our review of the best AK 47 Accessories.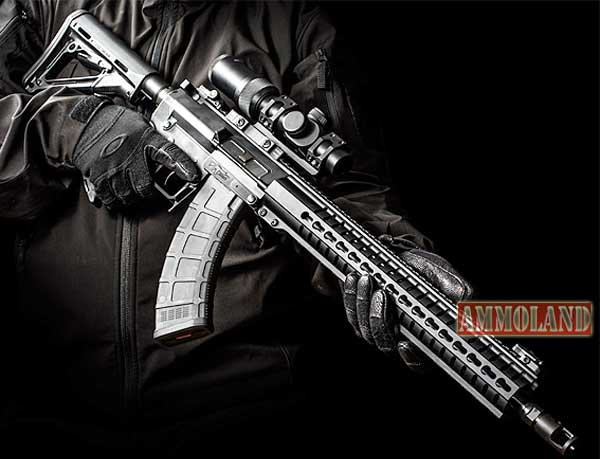 Fayette, MO –-(Ammoland.com)-  CMMG Inc. today announced the release of the Mk47 MUTANT – an all-new rifle platform that combines the accuracy of the modern sporting rifle and relentless AK47-like reliability with the legendary 7.62x39mm caliber.
Engineered from 7075-T6 billet aluminum, the Mk47 MUTANT features a uniquely designed upper and lower receiver built to manage the dimensions and pressures of the 7.62x39mm tapered cartridge all while keeping the weight of the rifle at a minimum.  Remarkably, the Mk47 MUTANT (while unloaded) weighs just over seven pounds.
The Mk47 MUTANT utilizes a unique bolt carrier group derived from the massive AR10 group, which aside from being shortened to a length of eight inches, retains all of the material on the bolt face for added durability and strength.
The lower receiver is designed to accept existing AK magazines, which are widely available, inexpensive and extremely reliable. A standard ambidextrous hook and latch system makes reloading fast and intuitive. The rifle comes with one Magpul PMAG® 30-round AK/AKM MOE 7.62×39 Magazine.
A full-length Picatinny rail runs atop the Mk47, making it easy to mount your preferred sights or optics. CMMG's RKM KeyMod™ Hand Guard is exceptionally light and ergonomic.  It also gives users the freedom to mount a wide array of accessories using the KeyMod slots found in the 3, 6 and 9 o'clock positions.  For accessories that are not yet KeyMod compatible, CMMG offers 5-slot accessory rails.
The Mk47 sports a 16.1" free floated barrel with a 1:10 twist and runs on the proven carbine-length direct impingement gas system. By effectively maximizing the accuracy and harnessing the knockdown power of the 7.62x39mm, the Mk47 is an ideal rifle for a variety of sporting and defense applications.
CMMG Lifetime Quality Guarantee
CMMG, Inc. will guarantee its products against defects in material or workmanship.  CMMG, Inc. will repair, replace or substitute part(s) (at CMMG, Inc. discretion) at no charge to the customer if a defect of material or workmanship is found. All service work must be carried out by CMMG, Inc. The warranty applies to the original purchaser and a copy of the invoice or proof of purchase must be provided when submitting for service or work.
About CMMG:
CMMG began in central Missouri in 2002 and quickly developed into a full-time business because of its group of knowledgeable and passionate firearms enthusiasts committed to quality and service. Its reputation was built on attention to detail, cutting edge innovation and the superior craftsmanship that comes from sourcing all their own parts. By offering high quality AR rifles, parts and accessories, CMMG's commitment to top-quality products and professional service is as deep today as it was when it began.
See what makes the MUTANT platform so significant in the video below.
Another look at CMMG's MK47 Mutant Black Rifle:
More Details: