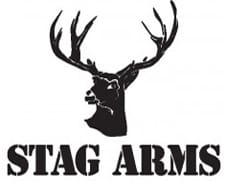 Cresson, TX –-(Ammoland.com)- Team Stag Arms' Kalani Laker and Jesse Tischauser continued their dominance in the dark at the 3rd annual Walking Dead Multi-Gun Night match in Cresson, TX.
"This match just keeps getting better as Match Director Jeff Chase learns new ways to challenge us in the dark," said Laker.
Laker bested the field of 100 plus Saturday night on seven challenging courses of fire which included a 23 round all shotgun stage while riding in a UTV.
"There are so many things that must go right to win any match. During a night match it is even more difficult to keep all of your gear running and still shoot a clean mistake free match. I am very fortunate to have kept the train on the tracks again coming away with the victory two years in a row," Laker commented.

"It is so much harder than shooting during the day but it's also so much more fun too. I have to give credit to our awesome sponsors, Stag Arms, Streamlight, Optics Planet, and Freedom Munitions. They have put the perfect guns, gear, and ammunition in our hands and that makes shooting at night a lot easier and WAY more fun," remarked Tischauser.
Tischauser posted wins on stages one and two on his way to a 3rd place finish. "Unlike last year I started off slow. I had to battle my way back to challenge Kalani. But his resolve was too much. It all came down to the last stage and he didn't give me an inch. My hat goes off to my teammate. When the sun goes down his game goes up," said Tischauser.
The 2014 match again featured an opportunity for shooters to shoot a side stage sponsored by AAC, FLIR, and TNVC. Every shooter got to shoot three different 300 BLK rifles equipped with various thermal optics and night vision scopes.
"Paying a couple hundred bucks to shoot a match and getting to put rounds through a suppressed rifle with a $10,000+ optic is one heck of a deal. Most guys never get to shoot this stuff. You really owe it to yourself to come play the game in the dark," stated Laker.
Stag Arms was founded in 2003 with the goal to manufacture reliable, 100% American made competitively priced Mil-spec AR15's. Since then, we they have quickly become a market leader and one of the largest manufacturers in the United States.
For more information about Stag Arms shooters, products, media and events visit www.StagArms.com.