Now available in 16", 18" and 26" models
Jacksonville, FL -(Ammoland.com)- Monadnock announced today the release of three additional length options for its AutoLock X3 Expandable Baton.
With 16", 18" and 26" lengths now available, in addition to the 21" and 22" lengths, this newest series offers a broad selection to meet individual officer needs. The AutoLock X3 series features an updated cam and stainless steel ball bearing, providing a reliably consistent locking action and a solid feel in the hand when deployed.
"We're constantly looking for ways to improve our products and expand offerings to meet customer needs," said Craig Starrett, Category Director, Monadnock. "With the most comprehensive offering of positive locking baton lengths in the industry, the AutoLock X3 has been well received by agencies throughout the country and many officers have complimented its feel and ease of draw."
The patented AutoLock X3 baton is equipped with a new blackened electroless nickel finish that improves corrosion resistance on the inside and outside of the baton and features a new smooth plastic nose on the baton handle for more efficient holstering and transitioning from the holster to the hand. Available with a variety of options, these models can be purchased with either a firm foam or fluted Super Grip handle, which offers excellent tear strength, and a choice of the Safety Tip, 3XT Tactical Targeting Tip, or the Power Safety Tip. Engineered to turn a subject's pockets inside out while reducing the risk of the user getting stuck with sharp objects, the Power Safety Tip also offers a weight-forward balance.
These new offerings will be featured at the 2015 SHOT Show (Shooting, Hunting, Outdoor Trade), booth #12762 at the Sands Expo Center in Las Vegas, NV this week.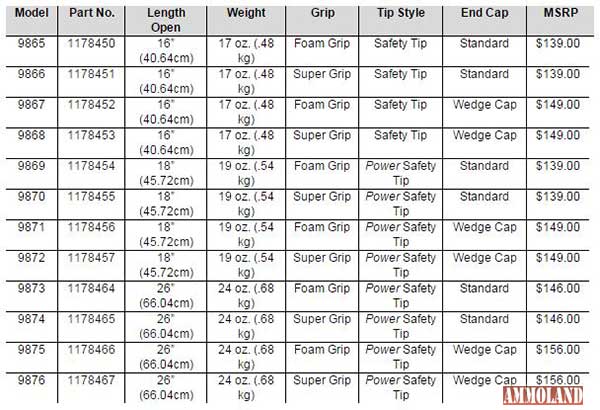 The 21" and 22" lengths were introduced last fall. The 16", 18" and 26" AutoLock X3 positive lock batons are now also available for purchase. For more information on the AutoLock X3 baton series, please click here.
About Monadnock
Monadnock has manufactured products of the highest quality for law enforcement since 1958. It has a rich heritage of pioneering baton design and development that has revolutionized the way law enforcement professionals operate, train with and purchase batons. Monadnock products are made with the finest materials for state-of-the-art batons and training aids that assist officers in performing their duties. Monadnock is a part of The Safariland Group family of brands.
For more information, visit www.safariland.com/monadnock.
About The Safariland Group
The Safariland Group is a leading global provider of a diverse range of safety and survivability products designed for the public safety, military, professional and outdoor markets. The Safariland Group offers a number of recognized brand names in these markets including Safariland, ABA, Second Chance, Bianchi, Break Free, Protech Tactical, Hatch, Monadnock, Identicator, NIK, Mustang Survival and Med-Eng. The Safariland Group's mission, "Together, We Save Lives", is inherent in the lifesaving and protective products it delivers. The Safariland Group is headquartered in Jacksonville, Florida.
For more information about The Safariland Group and these products, please visit www.safariland.com.
The Safariland Group is a trade name of Safariland, LLC.