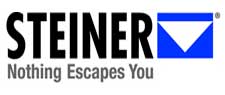 GREELEY, CO. –-(Ammoland.com)- The new Steiner XC Series binoculars are the perfect optics for performance and value in a rugged, compact roof prism design for hiking, birding, sporting events and indoor concerts.
"These new XC Series are binoculars you can always carry with you: traveling, trekking or taking in the kids' lacrosse game," says Tom Frane, VP of Sales, Marketing and Business Development.

"German precision and crisp images make them an outstanding value."
In addition to Steiner clarity, resolution and color, great ergonomics sets the XC Series apart. They're extremely comfortable in the hand and feature eyecup side-shields to block sidelight and wind. There are four models to choose from: the compact 8x32mm and 10x32mm, light enough to carry in a pack or purse, and the mid-size 8x42mm and 10x42mm that bring in amazing detail at longer ranges as well as sharp close-up viewing to within 6 ft.
Details of the XC Series are available at Steiner-Optics.com
The XC Series is rugged. The lightweight Makrolon housing is extremely durable. Surrounded by the NBR Long Life rubber armoring, the chassis will survive 11 Gs of impact. The Steiner N2 Injection System seals in 14-psi dry nitrogen for waterproof, fogproof clarity in tropical wet, arctic cold or desert heat. The ClicLoc System neck strap attaches and removes the neck strap or harness with the push of a button and keeps the binoculars hanging straight and action-ready.
As with all Steiner optics, The XC Series is covered by the industry-leading Steiner Heritage Warranty – Steiner's promise of the highest standards of quality, dependability and customer satisfaction.
About Steiner Optics
For nearly 70 years, Steiner Germany has made trusted optics for life's defining moments. The successful pursuit and capture of these moments demands the fast and precise detection, location and identification of a distant objective. Whether the objective is wildlife, a marine bearing, law enforcement suspect or military combatant, Steiner optics enhance an individual's most important sense, vision, so that on land or sea –– Nothing Escapes You. For more information, contact: Steiner-Optics, 920 54th Avenue, Suite 200, Greeley, CO 80634; call (970) 356-1670 or toll free (888) 228-7747. Visit the company website at www.steiner-optics.com or www.facebook.com/SteinerOptics.