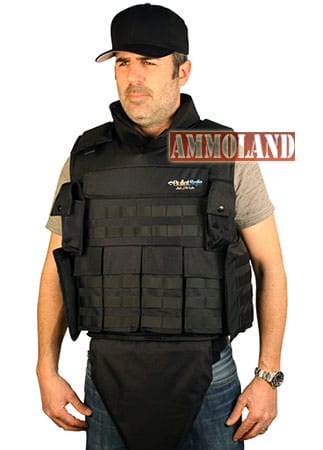 Troy, MI -(Ammoland.com)- The BulletSafe Alpha offers almost twice the protective area of other bulletproof vests at an affordable price, just $699.
Why Offer Such An Awesome Vest?
We introduced the BulletSafe Alpha for two reasons. First, because we wanted to show that our company offers more than just a low price. We deliver great value like our level IIIA vest for just $299. Second, we wanted to make a truly great bulletproof vest, one that couldn't be compared to other products at any price.
We set a price target. What could we offer for the price of vests from our competitors. We asked uniform stores what a vest similar to the BulletSafe Bulletproof Vest costs. The most common answer we heard was $699. So we decided to see what we could offer for $699 and the answer was A LOT! Our regular BulletSafe Bulletproof Vest offers Level IIIA protection and front and rear plate pockets so we started there.
Then we added Shoulder protection, Neck Protection, Overlapping Side Protection, A Drop-Down Groin Protector, Six Utility Pouches and a full M.O.L.L.E. system. It's a pretty impressive setup. The Alpha has roughly twice the protective area of standard bulletproof vests for just $699. Wholesale orders for Alpha vests shipped late last week, so they should be available in many of our retail locations.
If you are interested in them or have any questions, please call our office at 1-248-457-6877 or my cell phone at 1-586-214-5964.
About BulletSafe
BulletSafe.com is operated by PriveCo Inc. We have been in business since 1998 and we operate out of our office and warehouse in Troy, Michigan. PriveCo owns and operates a number of medium-small retail websites that sell items that are difficult to ask for in person. Inexpensive Bullet Proof Vests seemed like a good retail venture for the company and we are happy to put our support team and expertise to use in getting you great products at an unbeatable price.
For more information, please visit www.BulletSafe.com.