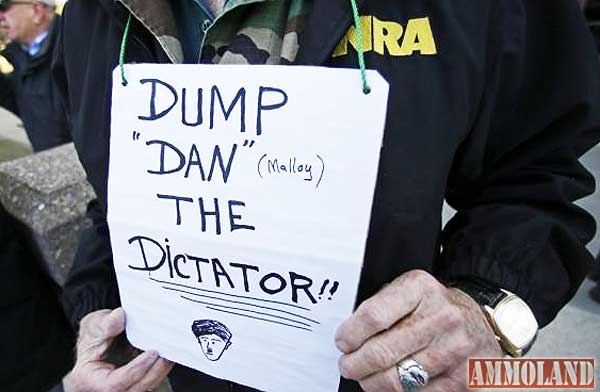 Connecticut –-(Ammoland.com)- The Connecticut Citizens Defense League (The state's largest grass roots gun rights group) Is speaking out in opposition to the so-called Domestic Violence Proposal released by the Malloy Administration this last Friday.
https://www.governor.ct.gov/malloy/cwp/view.asp?Q=560556&A=4010
Comments from CCDL President Scott Wilson:
"It's clear to myself and the membership of our organization that Governor Malloy simply does not like the notion of private gun ownership, and will use any tactic or excuse to erode constitutional rights. This is simply a ploy by the governor and his cronies to further erode human rights".
Wilson Stated:
"Our organization does not want someone that has committed Domestic Violence or has acted out in a threatening manner to possess firearms. With that said, there are already existing ways to protect real victims of Domestic Violence in Connecticut. If someone is clearly a victim of Domestic Violence, or have been threatened, the use of 'Risk Warrants' under (CGS 29-38c) is a tool readily available to law enforcement".

"This proposal is yet again another attempt by Governor Malloy and certain legislators to undermine the rights of Connecticut citizens. Once firearms are confiscated even on a so-called temporary basis, it may become very difficult in some cases for individuals to get their legally acquired property back. Even if the basis of some of these claims are proven to be meritless. Citizens of Connecticut should be afforded a proper hearing before a judge before any property can be seized".
About the CCDL: The Connecticut Citizens Defense League was formed in 2009 by a small group of concerned citizens as a non-partisan organization to advocate second amendment rights in the state of Connecticut. Since their founding, the group has grown to over 16.000 members across the state.
Thanks to this large supportive base across the state the CCDL has become a fixture of the capitol, and well recognized by committees that see firearms related bills.
As the go-to organization in the state they are consulted regularly by lawmakers who have questions and concerns about pending legislation or existing laws. For more information on the CCDL please visit https://www.ccdl.us
Scott Wilson Sr.
President
CCDL, Inc.
www.ccdl.us