Obsolete Arms and Ammo
By Bob Shell
This review includes three guns from Uberti. The Uberti 1866 Yellowboy Rifle, the Uberti Schofield .44-40, 5″ Revolver and the Uberti Smoke Wagon .44-40, 4-3/4″ Revolver.
Apache Junction, AZ –-(Ammoland.com)- Over the last number of years, interest is increasing for antique type of firearms.
There are a lot of original firearms that have survived for a century or so and they are really nice to shoot.
The problem is the cost.
If you buy an original Winchester or Colt better be ready to dig deep into your pockets. Most are in at least the four figure range and many in the five figures. That puts them out of the range of many shooters including yours truly.
Then there is always the risk of damage to such a weapon. Most are over 100 years old and the metals and methods of manufacture of the day isn't as good as it is today. They may look like a work of art but many are fragile. I have shot any number of them but you better believe that I checked them well over and used very mild ammo.
In 1959 Aldo Uberti began making replicas of Civil War-era cap and ball revolvers. He founded A Uberti S.R.L. in the village of Gardone Val Trompia in the Italian Alps. Over the years as his artisans gained experience the company increased production by including more of the Old West firearms.
The 44-40 round came out in 1973 in the Winchester model 73 rifle and Colt followed suit a few years later. It was the second most popular round after the 45 Colt. Of all the long and handgun calibers it was the most popular. The 38-40 was available and while a capable round never caught on like its bigger brother, the 44-40. They do however share the same case. The 44-40 somewhat resembles the 44 magnum case but they are not interchangeable which is a good thing.
If you managed to chamber a 44 mag round on the older weapon firing it would be a disaster.
In theory, you can load the 44-40 to duplicate the mag round but in reality it won't happen. I checked the case capacity and the 44-40 holds 2 more grains of 296 then the mag at 41 and 39 grains respectively. Besides action strength the 44-40 case isn't built as heavy especially the neck area.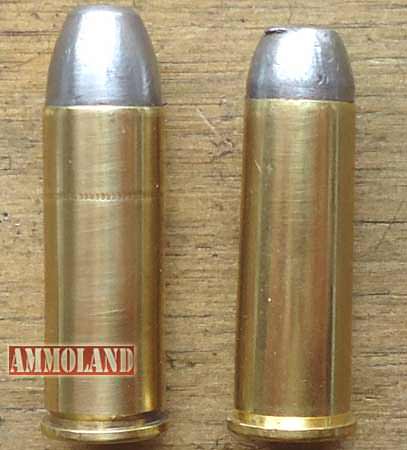 Another problem is the twist. The slow 1 in 36" twist found in most 44-40 guns would be too slow to stabilize a heavy 44 bullet. If you want 44 magnum power buy a 44 mag which would tend to make life simpler and safer. If you really wanted to experiment you could have a strong 44-40 made with a fast twist such as a 1 in 20 which would stabilize heavier bullets. You could get close to 44 mag power though the cases might not hold up. It is not a practical project though it would be interesting.
Happily, there is a very palatable solution to this dilemma. There are several companies that produce replica guns that closely resemble the originals. The two outstanding traits they possess is good quality and reasonable prices. If you can afford to buy an over the counter common firearm you can afford one of these. One of these companies as mentioned earlier and that has been around for a while is Uberti ( www.uberti.com ).
They produce a good selection at fair prices, putting them in the reach of most consumers. While they are available in modern calibers some of the older loads are offered which in my view makes them much more attractive.
The 1866 Yellow Boy ( tiny.cc/8rgopx ) was an improvement of the original Henry rim fire. The Henry had a split along the bottom of the magazine, which allowed dirt to accumulate jamming it up. Further, there was no wood forend to protect the shooter's hand from heat. The Yellow Boy came out with the solid magazine and wood forend plus the loading gate that lever actions employ today. Oliver Winchester took over in 1866 and was responsible in getting those improvements.
A Major Schofield designed the break open and while it had some popularity with the US military, Russia bought some 41,000 of them in 44 Russian. Those in the cavalry who fought Indians favored the break open design as it permitted faster loading and unloading which was important if you wanted to keep your scalp intact. The US army used them in the 45 Schofield round which is slightly shorter then the better known 45 Colt. That enabled the empty cases to be ejected fully clear of the gun allowing a quicker reload.
I recently received a pair of 44-40's ( see lead image). The revolver is a remake of the Schofield while the long gun's heritage is the Winchester model 66 Yellow Boy. The name came about because the receiver is all brass and is a remake of the Winchester rifle of that period. They come in a few calibers but I wanted something that was available back in the old west days. Handguns and rifles chambered for the same round was very popular because of the convenience. For some reason the 45 Colt wasn't used so the 44-40 was the largest round available. It was the second most popular round for the SA Colt. Many other gun manufacturers chambered both their long guns and revolvers in that caliber. Anyway it is very evident that these two guns were made by someone who takes pride in their work. They are good looking guns which is important to many consumers.
The pistol is a dark blue with the finish even with no apparent wavering marks. The mechanism which also serves as the rear sight opens the gun is case hardened. There is a full length groove from the rear to the front sight and no adjustments are available. The gun is tight which is normal while the trigger is on the heavy side. The extractor works briskly though it sticks open on occasion probably due to tightness. The cylinder and frame appear robust but I am not going to use heavier loads as I just don't see the need. To open the gun for loading there is a position which barely moves the hammer then just pull the stirrup backwards. I would assume that a sharp blow on the hammer would fire it. Maybe not, but again just use good gun safety handling techniques and you will be fine. After some use the extractor works better by not sticking and the trigger is somewhat better though still on the heavy side. After some dry firing the trigger is definitely much better.
Unfortunately, the Schofield broke during firing. The extractor sticks and the gun can't be fully closed so am sending it back. No hot ammo was shot which would of caused such a problem. Within a couple of weeks, I received a replacement gun showing excellent customer service. It of course will be tested and evaluated.
The new Schofield works ok but the action is rough and the trigger is heavy so hopefully some shooting will smooth it out.
I received a SA revolver from Taylor Firearms who imported it and was made by Uberti. The 4 & 3/4" barrel gun looks like a typical SA Colt. The gunsmith at Taylors lightened the trigger making it a real joy to shoot. There is no creep and it is extremely light. In fact I would not want it any lighter. The grips are some sort of plastic with no emblems just checkering and is dark colored. It will be interesting to compare these guns. Like the older S A revolvers you put in on half cock to rotate and load the cylinder. It has a setting that puts the hammer out just a little which would be a safety. I don't see a sliding bar so I would assume that a blow on the hammer might fire it. For the purposes of safety, I would treat it as the old style Colt. If you handle your guns in a safe manner that is no problem. There are no safety systems that trumps stupidity.
The model is known as the Smoke Wagon. There are two versions the top grade incorporates trigger and action work plus nicer springs. Trigger is set at 3 LBS on the custom model though it feels lighter.
Naturally, they will be shot to some amount to check out accuracy and function. Since they were designed many years ago no heavy loads will be fired. The most common bullet weight is 200 grains and light smokeless and black powder type of loads will be utilized. There is no point in shooting heavy loads or jacketed bullets. Due to the design there isn't a large selection of 44 bullets. You can take a 44 magnum bullet and reduce it diameter to .427. For a strong gun such as a Winchester 92 or a Ruger SA there might be something to that. You can take a 180 or 200 grain bullet and make it a useful bullet for hunting. While not normally considered a self defense round with the 170 grain homemade HP it should suffice. The core is soft lead while it has a large HP and since weight is less higher velocity can be obtained without excess pressure. Bullet diameter is .429-.430 since it was made for a 44 special or mag. That makes it tight which is good since there is no cannelure. There was some chambering issues because of the slightly oversize bullets. An option would be sizing to .428 and putting a cannelure on it. If I was going to use it for self defense I would do that.
Ranier sent me some 200 grain copper plated bullets which should make an interesting alternative to lead. No matter how good lead bullets are some shooters avoid them whenever possible. Anyway the Ranier are .430 in diameter and lack a cannelure and won't work that well as is. Chambering would be difficult and the bullet will move in the case as it isn't secured. To make them work better a cannelure was installed which isn't that hard to do. Since the diameter is increased to .432 or .433 they would be too large so they were sized to .429 in a Lee lube die. While still a bit large they will chamber for the most part in the revolver except with Remington brass it is much more difficult to chamber. The 8 grain load with the Ranier shot nice in the rifle however the Schofield did not like it at all. It is amazing on how much difference there is between the two. There are three guns involved in this chronographing.
LOAD – BULLET – VELOCITY – COMMENT
12 grains of Unique 170 gr HM HP 1578 (rifle) nice
12 grains of Unique 170 gr HM HP 1070 (handgun) consistent
12 grains of Unique 170 grain HM HP 1060 (SA handgun) high es
8 grains of Unique 200 grain cast FP 1119 (rifle) consistent
8 grains of Unique 200 grain cast FP 705 (handgun) inconsistent
10 grains of HS-6 200 grain cast FP 807.5 (SA handgun) consistent
10 grains of HS-6 200 grain cast FP 691.4 (Schofield) fair
10 grains of HS-6 200 grain cast FP 1087 (rifle) high ES
12 grains of HS-6 200 grain cast FP 997.8 (SA handgun) will pass
12 grains of HS-6 200 grain cast FP 1070 (Schofield) consistent
12 grains of HS-6 200 grain cast FP 1307 (rifle) decent
24 grains of 209 200 grain cast FP 849 (handgun) consistent
36 grains of FFFG 200 grain cast FP 741 (SA handgun) inconsistent
36 grains of FFFG 200 grain cast FP 676.6 (Schofield) high ES
36 grains of FFFG 200 grain cast FP 1099 (rifle) fair
Ten X BP 200 grain cast 741.9 (SA handgun) very high ES
Ten X BP 200 grain cast 601.3 (Schofield) high ES
Ten X BP 200 grain cast 1139 (rifle) fair
8 grains of Unique 200 grain Rainer copper 1079 (rifle) nice
8 grains of Unique 200 grain Rainer copper 541.1 (Schofield) very poor
Shooting these guns are a pleasure due to light recoil and good accuracy. At 7 yards both handguns displayed great accuracy using black powder loads. I did find that the black powder loads were not consistent which is unusual. Normally they have a very low standard deviation but that is why we test even in the AZ sun in summertime. It will be interesting on which style of revolver is best liked. One female who happens to be a great shot preferred the Schofield in spite of its heavier trigger. As it can be observed each gun reacts differently to the same load. That shows why it is important to make sure you work up the load that works best in your individual gun.
It has been said that if you have a gun that is capable of launching a 40 or larger caliber weighing 200 grains or more at 1,000 FPS then you have an adequate close range hunting gun. A few of the rifle loads meet that criteria so for someone who is willing to get close and place their shots the rifle will do the job.
Specifications
Schofield Revolver 1866 Yellow Boy rifle
Finish Blue Finish Blue brass furniture and receiver
Number of grooves 6 Number of grooves 6
Twist right hand Twist RH
Barrel length Lever action
Grips 2 piece walnut Magazine capacity 10 + 1
Barrel Length
Action single stirrup style top latch MSRP $1119
Auto cartridge extractor
MSRP $1079
Taylor & Company SA Colt style
SA handgun 4 & ¾" barrel Smokewagon
Twist RH
Caliber 44-40
Capacity 6
MSRP $550.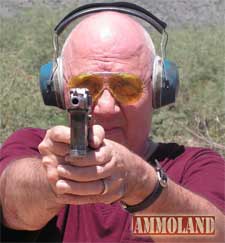 About Bob Shell
A Custom Reloader of Obsolete and Antique Ammo, Bob Shell, writes about the subject of Guns, Ammo, Shooting and Related Subjects. Visit: www.bobshellsblog.blogspot.com