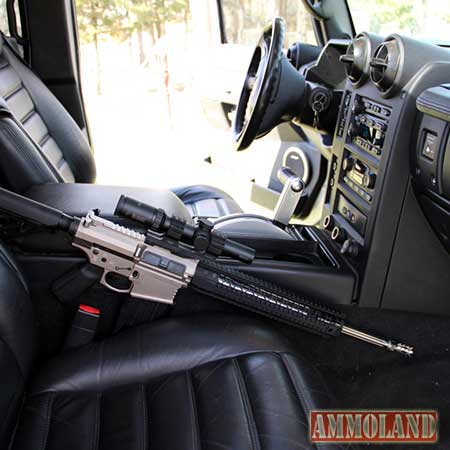 Larned, KS -(Ammoland.com)- Discrete Defense Solutions has added to it's innovative product line with the AR-10 Truck Console mount.
Whether you are a Law Enforcement Officer, Hunter, Avid Shooter, or a Farmer/Rancher this simple, economical and effective device solves all of the problems of transporting your AR-10 Style Rifle or M1 to the range or to the field.
We've all had the dilemma of finding a suitable place in the truck for our AR-10 to safely ride to the range or to our favorite hunting spot, and many of us have resorted to wedging the magazine between the seat and the console. We also know what happens after you hit a few potholes and apply the brakes a few times…it inevitably goes slipping out into the floorboard. Not only is this unsafe, but can cause scratching and other damage to your favorite AR 10 and can certainly ruin the zero on your optic, and with the high price of ammo nobody wants to re-zero an optic.
Not anymore! All you have to do now is lift the lid on your console, place the AR-10 Truck Console Mount onto the wall of the console, close the lid and BAM! you will never have to worry about any of those issues again. You then simply rotate the magazine into the sleeve on the mount and your AR-10 will ride right along with you. It takes only a few seconds. When you are ready to remove the AR-10, you lift the buttstock to rotate the rifle out of the mount. All of this is effortless and takes only a second or two.
Product Features:
Installs easily with no tools.
Console Clasp fits between Console Lid and side.
Made from durable .093″ Kydex.
Easily removed and stowed when not in use.
Holds your AR 10 Style or M1 Rifle securely against your truck console.
Remove or replace Rifle in seconds by sliding Magazine into, or out of the Mount.
Prevents Rifle and Optics from getting bumped and banged around the truck.
Models available for most modern Trucks and SUV's.
Works with standard GI Mags or PMAGs
Passenger Side is suggested, but Driver Side is available and works well as Spare Magazine Holder.
MSRP: $35.00
If you are a Law Enforcement Officer, the AR-10 Truck Console Mount allows you to easily and quickly deploy your AR-10 / M1 from either door or sitting in either seat. If you need something more custom for your department or to work in a patrol sedan, please contact us. We have already helped some agencies find a solution to their problems and hope to help many more.
For more information on the AR-10 Truck Console Mount, please visit https://discretedefensesolutions.com/shop/vehicle-accessories/ar10-truck-console-mount.
Please practice gun safety and never transport a loaded AR-10 rifle.
About Discrete Defense Solutions
Discrete Defense Solutions supports the right of all citizens to bear arms and provides products designed to allow them to do so with great comfort. Many existing holster products fail in this area, which led to the company working to create and launch new products designed for personal defense and concealed carry purposes. The goal remains to eliminate any discomfort one may experience when carrying a personal weapon, as discomfort may impede one doing so. Products made by Discrete Defense Solutions are ready to be worn on a daily basis, non-stop.
For more information, please visit www.DiscreteDefenseSolutions.com.