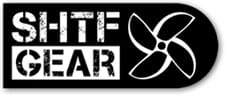 Logan, UT -(Ammoland.com)- National holster manufacturer SHTF Gear is proud to announce the release of a holster from its ACE-1 line of inside-the-waistband holsters for the Glock 43 Pistol.
The G43 is Glock's latest addition to the firearm world and its first single-stack 9mm pistol. This highly anticipated handgun is likely to become one of the most popular choices among those who carry concealed.
The ACE-1 Gen 2 holster from SHTF Gear is the perfect match for the Glock 43. Its design eliminates unnecessary bulk and takes advantage of the small size of the G43 to offer maximum concealability. Each holster is meticulously molded, riveted, and stitched to provide an extremely reliable platform for concealed carry. This reliability allows the user to carry the Glock 43 with complete confidence.
SHTF Gear, a Utah-based company, has been manufacturing top quality, American made equipment for concealed carry since 2010 and is quickly becoming an industry leader. Its flagship product, the ACE-1 Gen 2 hybrid holster, is available for over 200 handguns and offers unmatched quality. The ACE-1 features distinctive Kevlar stitching, a unique curved leather backer, adjustable retention, and unparalleled attention to detail.
Building on the success of the ACE-1 holster, SHTF Gear developed the second generation ACE-1 as an improved design that offers greater comfort, durability, and ease of use.
New features of the Gen 2 design include the Comfort CURVE, a unique design that provides greater comfort by creating a curve in the normally flat backer. The ACE-1 Gen 2 also offers user-adjustable retention for greater reliability, thicker Kydex for maximum durability, increased Kydex coverage for a more secure fit, and a flared opening for greater ease of use. All of these features are included in the ACE-1 Gen 2 at the same price, $59.95, as the original ACE-1 holster.
While this second generation holster offers several design changes, it maintains all of the unique features that made the original ACE-1 a leading hybrid holster: durable Kevlar stitching, 22 sizes of leather backers, precision-formed Kydex, premium American leather, adjustable ride height and cant, and a sweat guard cut for a full grip.
SHTF Gear's Glock 43 holsters are available for immediate order and ship with a lead time of only three to five business days. Holsters are also available for the Glock 43 Handgun with the attached Crimson Trace Laserguard (LG-443).
The ACE-1 can be ordered online at www.SHTFgear.com, Amazon.com, or by calling (435) 261-ACE-1.
About SHFT Gear
SHTF Gear LLC, based in Logan, Utah, is a manufacturer of concealed carry holsters and related gear. We stand behind the durability and quality of our products, providing a lifetime warranty on every holster that we ship. SHTF Gear LLC utilizes the latest in manufacturing technology, paired with traditional care and quality, to create our holsters. As the maker of the ACE line of holsters, we have set a new standard for quality, comfort, and reliability. We hope to give each of our customers a product that they can truly rely on.
For more information, please visit www.SHTFgear.com.