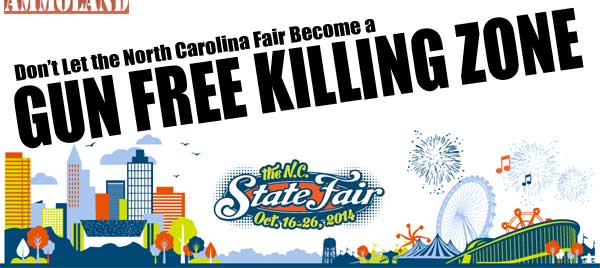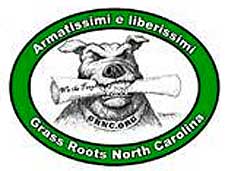 North Carolina –-(Ammoland.com)- Attend the North Carolina House Appropriations Committee meeting, Wednesday May 6th 2015, to support critical gun rights bill H562 …
As you likely know, through previous GRNC legislative alerts, Republicans in the NC Legislature have been slow to move on some of the important bills that North Carolina gun owners are expecting; *H562 being one of them. Fortunately, the Republican supermajority has taken steps to make sure H562 was immune to the April 30 crossover deadline.
Unfortunately, some Republicans, who are not as strong on gun rights as others, have weakened the bill by adding a provision that empowers the Agriculture Commissioner to prohibit concealed carry at the State Fair. They've discussed weakening the bill further, and had even attempted to send H562 to the Rules Committee, where bills usually go to "die." Thanks to your phone calls and emails, that didn't happen, and now this critical gun rights bill is up for consideration by the House Appropriations Committee.
Your Vigilance is Required
It's disappointing to see some Republicans dither on gun issues after they were such pro-gun stalwarts during campaign season, but such is the nature of politicians. In large part, gun rights supporters were responsible for handing Republicans their supermajority, but it shouldn't be surprising that citizens must remain vigilant, particularly after the voting booths are back in the storage closet. Thankfully, "vigilance" is not just a word to GRNC supporters, and below, you'll see what you can do to remind your representatives of this.
Attend Wednesday's Committee Meeting
Politicians may not be reliable, but one thing is sure: when they know their constituents are watching, they miraculously become much better at moving the ball. That is why we're asking GRNC supporters to attend the House Appropriations Committee meeting this Wednesday, May 6, at 8:30 AM. The committee will be discussing H562, a bill critical to gun rights in our state. If you attend, you can be sure the politicians who work for you will take notice, and they will not be tempted to weaken the bill further, and weakening it has indeed been discussed by the ostensibly pro-gun Republicans. Rather, with GRNC supporters like you at the meeting, they will be compelled to strengthen the bill and move it forward.
Below, under 'Immediate Action Required,' you'll find details regarding the meeting. You'll also see how you can easily send a message to the Republicans on the House Appropriations Committee to let them know what you expect of them. Please send them a message, and please attend the meeting. Advancing gun freedom in North Carolina may depend on it.
*H562 "Amend Firearms Laws." This comprehensive bill would further open up the state fair to concealed handgun permit-holders (if the weakening provision is removed), remove restrictions from educational properties, permit guns in locked vehicles at places of employment, remove CLEO discretion in signing BATFE paperwork for Title II firearms, authorize hunting with short-barreled rifles, and more.
IMMEDIATE ACTION REQUIRED!
EMAIL REPUBLICANS ON THE HOUSE APPROPRIATIONS COMMITTEE. Below, find a copy/paste email list. Use the copy/paste message provided under 'Deliver This Message.'
ATTEND THE HOUSE APPROPRIATIONS COMMITTEE MEETING. Please dress for the press: No clothing with inflammatory slogans, business casual or better preferred, etc. Meeting details below.
WHEN: Wednesday, May 6, 2015; 8:30 AM
WHERE: Legislative Office Building
Room 643
300 N. Salisbury Street
Raleigh, NC 27603
DIRECTIONS & PARKING INFO: https://www.ncleg.net/NCGAInfo/visitinglegcomplex.html
Due to morning traffic, parking considerations, and limited seats in the committee room, please allow for plenty of extra travel time. Arriving an hour early would not be a bad idea.
LEGISLATIVE COMPLEX MAP: https://grnc.org/images/alertimages/legislative-complex-map.jpg
CONTACT INFO: Copy/Paste Email List for Republicans on the House Appropriations Committee
[email protected]; [email protected]; [email protected]; [email protected]; [email protected]; [email protected]; [email protected]; [email protected]; [email protected]; [email protected]; [email protected]; [email protected]; [email protected]; [email protected]; [email protected]; [email protected]; [email protected]; [email protected]; [email protected]; [email protected]; [email protected]; [email protected]; [email protected]; [email protected]; [email protected]; [email protected]; [email protected]; [email protected]; [email protected]; [email protected]; [email protected]; [email protected]; [email protected]; [email protected]; [email protected]; [email protected]; [email protected]; [email protected]; [email protected]; [email protected]; [email protected]; [email protected]; [email protected]; [email protected]; [email protected]; [email protected]; [email protected]; [email protected]; [email protected]; [email protected]; [email protected]
DELIVER THIS MESSAGE
Suggested Subject: "Strengthen & Advance Gun Rights Bill, H562"

Dear Representative:

As a North Carolina gun rights voter who in large part was responsible for creating the Republican supermajority, I am writing to insist that you not weaken the gun rights bill, H562 ("Second Amendment Affirmation Act"). Rather, I'm calling on you and your colleagues on the House Appropriations Committee to strengthen and advance this important bill.

I understand that Republicans recently added a provision to H562 which would empower the Agriculture Commissioner to bar the otherwise lawful concealed carry of firearms at the State Fair. It's as dangerous as it is senseless to arbitrarily prevent law-abiding citizens from protecting themselves and their families at the fair. You may not be aware that, in 2014, fairgoers were robbed at gun point while returning to their vehicle. This occurred even after Agriculture Commissioner Troxler promised top-notch security to the very fairgoers he went out of his way to disarm. Please work to remove the provision from H562 that could disallow practical self-defense (concealed carry) at the State Fair.

H562 is critical to advancing gun rights for the law-abiding people of North Carolina. For this reason, I insist that you, as an ostensibly pro-Second Amendment member of the House Appropriations Committee, reject any weakening provisions, and instead work to strengthen H562, and advance it toward passage.

I will be monitoring your actions on this issue through Grass Roots North Carolina legislative alerts.

Respectfully,