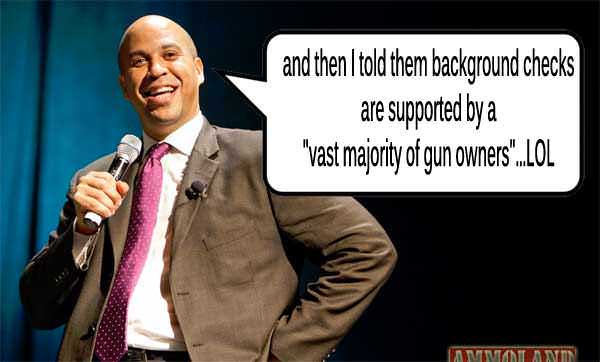 Manasquan, NJ –-(Ammoland.com)- Months after the failed attempt at passing universal background checks in the U.S. Senate, New Jersey's "junior varsity" Senator, Cory Booker, sent a letter to constituents doubling down on his support for more background checks.
The former Mayor of one of New Jersey's most murder filled cities, Newark, NJ, Booker, hits all the gun banner buzz words wrapped in misleading FBI stats. He pledges to find "Common Ground" on new "Common Sense" laws to stop "Illegal Guns" through the implementation of universal background checks. Something that he claims are supposedly supported by a "vast majority of gun owners".
Booker wraps up with the call for more funding of the ATF to crack down on "combatting(sic) illegal gun trafficking". Failing to mention the Obama administration's Fast & Furious fiasco that had ATF and DOJ sneaking guns across the boarder to drug dealers in Mexico and leading to the death of border patrol agent Brian Terry.
June 4, 2015
Dear XXXX:

Thank you for taking the time to write to me about keeping our communities safe from gun violence. I rely on the input of engaged New Jerseyans like you when making decisions, and I appreciate you sharing your thoughts.

Illegally possessed guns are a grave threat to our nation – to our brave women and men of law enforcement, to our communities, and to our children. I joined with others to confront this threat every day as the Mayor of Newark, and now as a United States Senator, I'm fighting for common sense laws designed to keep guns out of the hands of criminals.

The most recent available federal data from the FBI shows that in 2012, 8,855 of the 12,765 homicides committed in the United States involved the use of a firearm. That same year in New Jersey, 70 percent of our state's homicides involved a firearm. This is unacceptable, and these numbers can be greatly reduced without restricting the Second Amendment rights of law-abiding gun owners. We can find common ground. We must work together.

Nowhere is that need more urgent, or the potential for meaningful cooperation greater, than in passing a federal universal background checks law. The Senate failed to pass background check legislation last year after the Sandy Hook Elementary School tragedy, but I remain optimistic that my colleagues will hear the forceful call of the vast majority of Americans, and the vast majority of gun owners, who support this reform. There are other reforms that we can all agree upon, too. For example, we must do more to keep guns out of the hands of the mentally ill and adequately equip the Bureau of Alcohol Tobacco Firearms and Explosives to perform its crucial work of combatting illegal gun trafficking.

Again, thank you for writing to me. I am honored to represent you in the United States Senate, and I value what I hear from New Jerseyans about the issues our state and nation face. Please continue to keep in touch with your thoughts and concerns. For more information on my work in New Jersey and Washington, please visit my website at booker.senate.gov.

Sincerely,

Cory A. Booker
United States Senator