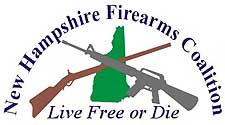 Milford, NH –-(Ammoland.com)- We have been telling you about SB 116, Constitutional Carry for some time now. You know how important it is. Last week the Senate agreed to the amendment that was passed by the House of Representatives.
We have told you about the racist roots of the New Hampshire Concealed Carry license law.
We have explained that the State Supreme Court has "redefined" what a suitable person is and now, just because a person may lawfully own a firearm, they no longer automatically qualify for a pistol/revolver license. Constitutional Carry will solve this problem.
Constitutional Carry is the basic principle that if you are legally eligible to purchase a firearm, you should be able to carry that weapon, concealed, for self-defense without government "permission."
Kevin Landrigan, the dean of statehouse reporters, wrote that this is a dangerous bill to veto. It sure is! The cause of freedom hangs in the balance!
This is the final push, the time is NOW! All law abiding firearms owners must call, fax or email Governor Maggie Hassan and urge her to sign SB 116 into law when it reaches her desk.
Please email Governor Hassan by clicking here and send a copy to NHFC, Inc. by clicking here.
Governor Hassan was recently heard telling a group of fourth graders that she wants feedback from the public because the public elected her. She said she represents the public.
Please call 603)271-2121 or FAX: (603) 271-7640 the Governors Office and let Governor Hassan know that you are counting on her to stand for freedom and sign SB 116 into law! Tell her that Constitutional Carry is the law in six other states and New Hampshire citizens are no less law abiding than residents of Vermont or Alaska! Please remember to be polite and courteous when you give Governor Hassan your feedback!
Thanks for your support.
In Liberty, New Hampshire Firearms Coalition.
About New Hampshire Firearms Coalition:
The New Hampshire Firearms Coalition is New Hampshire's only No Compromise Gun Rights Organization. While many so-called "gun rights groups" work to curry favor with politicians and the media, NHFC is working aggressively to hold politicians accountable and to put a stop to gun control. Visit: www.nhfc-ontarget.org