Set Your Sights on Prois' Shooting Apparel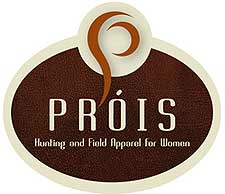 Gunnison, CO -(AmmoLand.com)- Hunting season will be here before you know it and it's time to hit the range to sight in your weapons of choice.
Prois has the perfect gear for all your summer outings; from the 3-d archery range to the sporting clay course, Prois has you covered. Take a minute to read about the staff's favorite items for those hot summer days.
It all begins with the pants. Prois' Adventure pants, to be exact. Constructed of 94% nylon and 6% spandex, the fabric on these "happy pants" is lightweight and stretchable, perfect for warm days outside when shorts are not an option. Elastic drawstring cuffs keep them tight to your boots and protect your legs from burrs and thorns. Prois adventure pants have multiple deep set pockets to hold valuables and belt loops to hold a belt, cartridge holder, or extra clips. They come in colors olive and stone and are extremely affordable at only $129.99.
Next on the list is the Artemis Competitive Shooting Shirt, a staple for hitting the range. This shirt is going to make you look and feel like a champ and the better you feel, the better you perform. Moisture wicking poly/spandex fabric makes this shirt extremely breathable and lightweight, which is perfect for hot summer days. In case you don't have enough pockets in your Adventure Pants, Prois added a pocket to the back of the Artemis in case you need a place to stow lightweight goods for easy access.
If you are looking for the ultimate in functional shooting vests, you have found it with the Prois Competitor Shooter's Vest. This vest suits all your needs when heading to the range. It features bilateral shoulder padding to accommodate left or right dominant shooters. It also has internal pockets on each side of the chest to house gel packs when needed. Front expandable cargo pockets on each side are perfect for stowing boxes of shells or hearing protection. A back mesh pouch is perfect for holding spent hulls and has a zipper for ease of disposal when you are done shooting. Incase you don't need the full vest, unzip it at the waist to form a fully functional shooting apron. The Prois Competitor Shooter's vest comes in black and tan.
If you don't have one of Prois' signature caps already, you are going to need on for the range. The company offers a wide variety of colors and styles. For hot summer days, Prois suggests the "trucker" style caps with a mesh back or a visor.
All of Prois' range gear is the ultimate in functionality and you will not be disappointed. Find all of these products and more at www.proishunting.com.
About Prois Hunting Apparel
Prois Hunting Apparel for Women (pronounced 'pro-iss') manufactures athletic, technical hunting and shooting clothing for women. Visit us and see what products our staff deems are perfect for your upcoming safari! Prois was created for women, by women who refuse to settle for downsized men's gear or upsized children's gear. Each garment is created with the most technologically advanced fabrics available and a host of advanced features to provide comfort, silence and durability. The company's out-of-the-box thinking has resulted in amazing designs for serious hunters that have taken the industry by storm and raised the bar for women's outdoor apparel.
For more information, please visit www.PróisHunting.com.