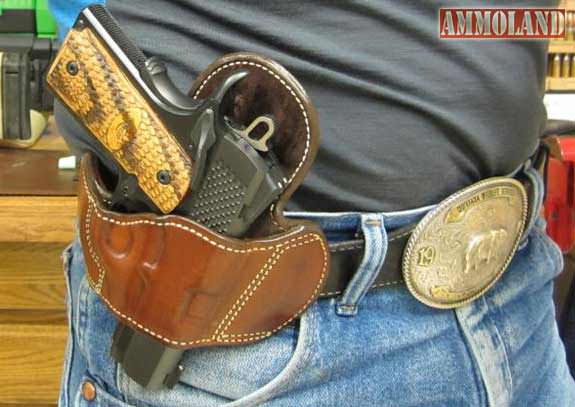 Houston, Tx –-(Ammoland.com)- At a North Austin gun store and shooting range, Governor Greg Abbott will signed TSRA's Open Carry bill during in an official signing ceremony. This was a campaign promise, made good!
In March of 2014, House leadership committed to passing legislation first introduced in 2009 by Representative George Lavender (R-Texarkana). Lavender lost his bid for reelection earlier that month during the Primary.
When I asked for suggestions for a bill author to replace Rep. Lavender, Rep. Larry Phillips (R-Sherman) was recommended as a powerful choice. HB 910 was filed by Phillips who also became the chairman of the House committee where testimony would be heard beginning the process toward passage.
Later, in the summer of 2014, Senator Craig Estes, (R-Wichita Falls) two-time TSRA Legislator of the Year, held an interim study on the concealed handgun license, namely licensed open carry. Senator Estes took-on the challenge of the interim study and in January with support from Lt. Governor Dan Patrick, he filed SB 17, the senate companion to HB 910.
On the very last day that a bill could pass May 30th 2015, HB 910 crossed the finish line after a series of dangerous interruptions. It arrived on the Governor's desk on June1st 2105.
Most bills are not signed by the governor and simply become law. We know to be doubly honored that Governor Abbott is signing this historic and hard-won legislation.
The House saw 4,207 bills filed and the Senate 2,069. Only 1.5% of bills filed actually passed. It's not easy to create law and for the most part, this is a good thing.
Former State Rep. George Lavender came to the hearing in the House and testified in support of HB 910, his language. Rep. Phillips speaks highly of our friend, his former colleague George Lavender.
HB 910 will take effect on Jan. 1, 2016.
During the 4th quarter DPS will post information on their website about the new law, including the new sign, PC 30.07 which will indicate open carry is not allowed on the posted property. PC 30.06 and PC 30.07 means handguns.
Open carry is restricted to a belt or shoulder holster, this requirement extends to your vehicle meaning the handgun must be stored out of sight as before or left in the belt or shoulder holster, not laid openly visible on a console or seat.
Texas will a handgun license with no additional training requirements, and essentially the same laws we've carefully followed for 20 years.
It was a rough session with dangerous, time-eating interruptions and many distractions within the Legislative process.
Thank you, Rep. Phillips and Sen. Estes and now special thanks to Governor Greg Abbott. We look forward more celebrations form all Texas gun owners.
God Bless Texas, Members!
Thanks for your help during session!
And as always,
Keep the faith.
Alice Tripp
Legislative Director
Texas State Rifle Association
the NRA state affiliate
About:The Mission of the Texas State Rifle Association is to protect and defend the inalienable rights of the individual Texan to acquire, possess, transport, carry, transfer ownership and enjoy the right to lawful use of firearms for self preservation, for the defense of family and property and the common defense of the Republic and the individual liberties of the people. Visit: www.TSRA.com