Story and Photos By Sgt. 1st Class Raymond J. Piper
USAMU Public Affairs Office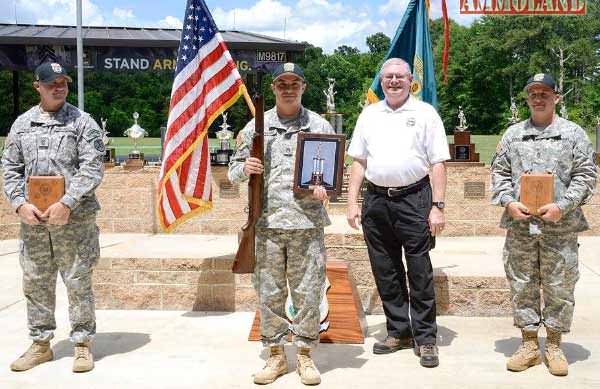 FORT BENNING, Ga. –-(Ammoland.com)- The Army team from the U.S. Army Marksmanship Unit (USAMU), won the team title and the top three overall spots during the 56th Interservice Pistol Championship June 8-12.
Now on his way with the rest of his team to the National Rifle and Pistol Championships that begin after the Fourth of July at Camp Perry, Ohio, Staff Sgt. Lawrence Cleveland, USAMU Pistol Team member, won his first individual Interservice Championship with a score of 3,519-162X.
"Once you're crowned (the best) pistol shooter, you get to hold onto that for the whole year," Cleveland said.
The "X" in Cleveland's score and other scores denotes hitting an X-ring inside the center ring or bull's-eye of a target. The X-scores are used to break ties.
Cleveland's teammate, Sgt 1st Class Patrick Franks, took second with a score of 3,515-172X.
"Shooting competitively with the United States Marksmanship Unit has been an experience like no other," Franks said. "I believe being able to tap into the different resources that all of the armed forces bring to the table … you really learn a lot about yourself."
Sgt. 1st Class Adam Sokolowski, another USAMU Pistol Team member, was third with a score of 3,504-167X.
Franks, Sokolowski, Cleveland, Sgts. 1st Class Michael Gasser and Sean Watson, and Spc. Ryan Franks, who were competing as USAMU Blue team, earned their 15th consecutive Interservice Pistol Championship team title with a score of 4,652-180X, beating the second place finishers, All Guard-Gold, by more than 100 points.
The championship concluded with the Director's Match and an Excellence-in-Competition (EIC) match. All non-distinguished shooters got the chance to earn points toward their Distinguished Pistol Badge during the EIC match. The Distinguished Pistol Badge can be earned by anyone in the military and replaces the standard marksmanship badge on the dress uniform.
Spc. Franks won the EIC Match in his first Interservice Championship with the Team. His brother, Franks, won the Director's Match.
"The Interservice Championship is one of the best competitions I've been in because we have the best shooters in the Department of Defense coming down to see who is the best pistol shooter," Cleveland said.
In addition to those mentioned, USAMU shooters captured multiple wins during the Interservice Pistol Championship and to see all of the scores, visit https://ct.thecmp.org/app/v1/index.php?do=match&task=edit&match=13002.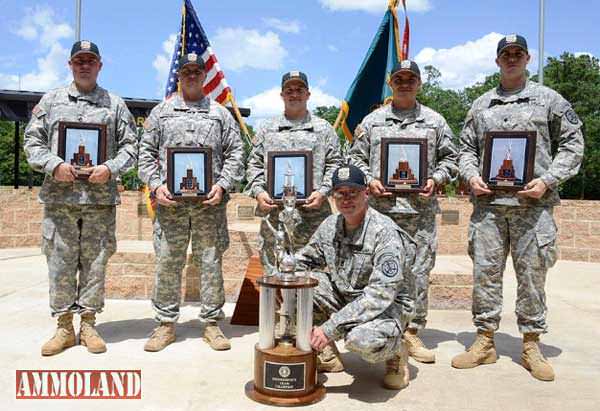 About USAMU:
The USAMU enhances the Army's recruiting effort, raises the standard of the Army's marksmanship proficiency, and supports the Army's small arms research and development initiatives in order to raise the Army's overall combat readiness. For more information on the U.S. Army Marksmanship Unit, contact www.USAMU.com.