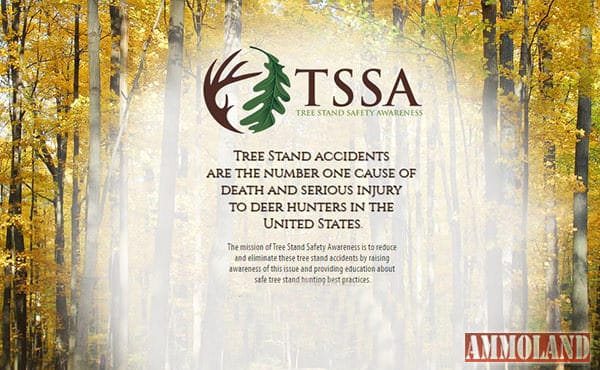 Roanoke, VA (AmmoLand.com)- Tree Stand Safety Awareness (TSSA), a newly formed not-for-profit 501(3)c organization with the mission of educating hunters about treestand safety, has announced that August is officially Tree Stand Safety Awareness month.
August, the month that most hunters start heading back to the woods to cut trails and hang stands in preparation for upcoming hunting season, is the most opportune time for treestand awareness. TSSA is looking to get hunters to start the season by putting safety first.
Treestand accidents are annually the #1 cause of death and serious injury to deer hunters and virtually 100 percent of these incidents are preventable by implementing three simple measures: First, wear a full-body harness when hunting from a treestand. Second, stay connected from the time your feet leave the ground. Third, make sure your hunting buddies do the same. It really is that simple.
Please help keep everyone safe this hunting season. Hunters and members of the industry alike can help spread the message of TSSA. Visit the TSSA website at www.TreeStandSafetyAwareness.org or on social media at www.facebook.com/TreeStandSafetyAwareness or www.twitter.com @TreeStandSafety.
For more info on TSSA, contact Glen Mayhew, DHSc., at [email protected]; 540-985-8539 or Jay Everett at [email protected]; 256-773-7732.
About Tree Stand Safety Awareness (TSSA)
TSSA encourages all hunters to take treestand safety seriously, every time you hunt from or hang a treestand. TSSA is a grassroots organization that was designed to serve as the industry leader with its sole focus on significantly reducing treestand accidents through promotion, education and best practices.
For more information, visit: www.TreeStandSafetyAwareness.org.