Allendale, NJ -(AmmoLand.com)- Small in size but boasting powerful light transmission, Leica's new Ultravid 32mm HD-Plus binoculars are the ideal choice for observers seeking unparalleled brightness in a more compact design.
Joining the previously launched 7x, 8x, and 10×42 and 8x, 10x and 12×50 HD-Plus models, the Ultravid 8×32 HD-Plus and Ultravid 10×32 HD-Plus incorporate a number of impressive new technological advances to deliver outstanding optical performance, especially in the early dawn and late dusk hours when wildlife is most active.
Evolving from the long-running and highly popular 32mm Ultravid line, these new binoculars embrace the superb ergonomics and rugged durability of their predecessors. Optical Performance is enhanced by development of new prisms, constructed of a unique new High Light Transmission Glass from SCHOTT. Additional optical performance is gained from application of proprietary new lens coatings via a high-temperature/high-vacuum plasma-coating process. The resulting increased brightness of the Ultravid 32mm HD-Plus binoculars is quickly seen in conditions of high blue/purple spectral ranges that are particularly apparent during twilight hours.
Incorporating all of the outstanding features of the other Ultravid HD binoculars, the new Ultravid HD-Plus 32mm binoculars feature the finest, most durable titanium and magnesium materials in its fully waterproof (to 16ft.) body. Additional field usability is gained with Leica's AquaDura coating on all external lens surfaces that provides easy cleaning, repels water and resists external fogging. A secure grip and quick handling are ensured by the highly tactile rubber-armoring, which also protects the Ultravid HD-Plus from the "hits" of a rough trek.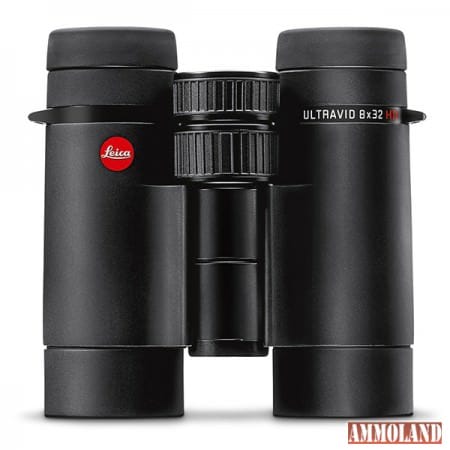 Designed for exceptional performance in the toughest of field environments, the Ultravid HD-Plus 32mm models are the natural choice for those desiring bright and powerful optics in a lighter weight, more compact, and highly durable design.
Order online at Amazon:
For more information, check out www.leica-sportoptics.com, and visit Leica's Facebook page at http://www.facebook.com/LeicaHunting.
About Leica Sport Optics:
Leica is a leading pioneer of high-performance sport optics. Legendary innovation, exceptional craftsmanship and brilliant optical performance define Leica's line of binoculars, spotting scopes, laser rangefinders and riflescopes.
For more information, please visit www.Leica-SportOptics.com.