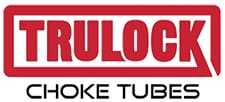 Whigham, GA -(AmmoLand.com)- Shotgunners love a sporting clays course because of the variety of challenging shots they see.
Each station is completely different, whether it is the distance or angle of the shot or the speed of the clay target zipping by. Having a variety of easily changeable Trulock chokes will greatly improve a shooter's results.
Many compare a round of sporting clays to golf. Like each hole on a golf course is different, each station on a sporting clays course presents a unique challenge. Imagine a golfer trying to play a round of golf with only one club. Good target shooters understand the importance of using the ideal choke for each target presentation. Top shooters often change chokes at each station of a sporting clays course.
A Trulock extended choke gives sporting clays shooters three primary advantages:
* Extended chokes as a rule give a more even pattern than flush chokes.
* Trulock's extended chokes are easier to change.
* The name of the constriction is marked on the head, making proper changes quick and easy at each sporting clays station.
Normally, a round of sporting clays or 5-stand can be shot using three choke constrictions. The three most popular Trulock choke constrictions for sporting clays are Skeet 1 for close-range shots, Skeet 2, which is a lite mod constriction for mid-range, and Improved Mod for the stations that present longer shots. These three Trulock constrictions generally work well on any sporting clays or 5-stand course.
While these three chokes are a good starting point, shooters need to pattern their gun to improve scores even more. Not all chokes pattern the same in every gun. Changing from one brand of shotshell to another can cause a change in the pattern, even if they have the same size shot, velocity and throw weight.
All Trulock Chokes are made from 17-4 PH grade stainless steel which is highly resistant to staining and rust. These extended choke tubes are knurled for easy installation and removal. A choke wrench is not needed, which makes changing chokes at a Sporting Clays station quick and easy. All Trulock Chokes carry a lifetime warranty. Shooters who are not completely satisfied with their purchase may return them for a refund or exchange within 60 days of purchase.
If you do not know which choke fits your gun, try Trulock's "Choke Finder Tool." For more information and to order online, visit www.trulockchokes.com, or call (800) 293-9402.
About Trulock Chokes:
The staff at Trulock Chokes prides itself on providing excellent service and an excellent line of products. In the event you are not completely satisfied with your purchase you can return it for a refund or exchange within 60 days from the date of purchase – with other firms, the moment you open it, you own it.
For more information, please visit www.TrulockChokes.com.