Three front and rear interchangeable grip inserts allow for maximum comfort and complete control no matter the hand size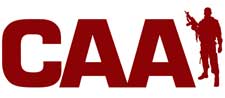 Tullytown, PA -(AmmoLand.com)- CAA USA's AR15/M16 pistol grip, the UPG16, offers shooting enthusiasts and tactical operators a versatile grip solution that enhances user comfort and control.
Not a "one-size-fits-all" pistol grip, the UPG16 comes standard with six easily interchangeable rubberized grip inserts; three front and three rear, allowing the user to completely customize their choice of finger grooves, palm swell and contoured backstraps for better control and more comfort. Customization of the firearm's pistol grip reduces the user's hand fatigue by improving control, which increases the overall handling and accuracy of the firearm.
Each of the interchangeable front and rear rubberized grip inserts mount securely in place with no gunsmithing required. The UPG16 pistol grip also has a capped storage area for small items or an optional cleaning kit.
Command Arms UPG16 Specifications:
Part Number: UPG16
Fits: AR15/M16
Materials: Polymer-Rubber
Weight: 3.7 ounces
Width: .375 inches
Length: 2.25 inches
Height: 4.5 inches
Color: Black
MSRP: $36.75
For more information on CAA USA, visit www.commandarms.com. Join the conversation on Facebook.
About CAA USA:
CAA USA is the exclusive distributor of world-class, operator-tested firearms accessories from Command Arms Accessories (CAA). Our products are specifically designed to meet the rigorous demands of tactical solutions required by the world's armed forces, law enforcement units and weapons professionals. CAA product line includes advanced light and laser devices, bipods, handgrips, Picatinny rail systems, tubes, butt stocks, cheek rests, non-lethal personal protection and the patented RONI pistol-carbine conversion.
For more information, visit: www.commandarms.com.