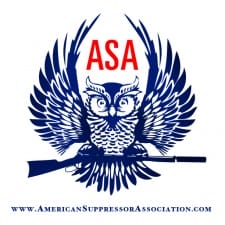 ANOKA, MN – The American Suppressor Association (ASA) is pleased to announce that Federal Premium® Ammunition is the newest Tier Five Sponsor of the ASA. With their contribution, Federal Premium joins the ranks of AcuSport, Daniel Defense, Gemtech, SilencerCo, Silencer Shop, Thunder Beast Arms Corporation, Vortex Optics and YHM as a major sponsor of the association.
Since 1922, Federal Premium Ammunition has been providing hunters and shooters with high-quality shotshell, centerfire and rimfire ammunition. Among their product offerings is the American Eagle® Suppressor line of ammunition, which is specifically optimized for use with suppressors.
"Our most effective tool in the fight for pro-suppressor reform is the education of legislators and regulators at live-fire demonstrations," said Knox Williams, President and Executive Director of the American Suppressor Association.  "Federal Premium Ammunition's contributions have assisted us tremendously in our efforts. We are thrilled to have the support of an organization that understands the importance of advocacy on behalf of sportsmen and women across the country."
Federal Premium's commitment to advocacy and conservation extend well past their product offerings. For years, they have played a very active role in new hunter and shooter recruitment, the North American Model of Conservation, and habitat conservation. As supporters of the American Suppressor Association, they are now a part of the pro-suppressor movement.
"We appreciate the work ASA has been doing to make common sense changes to suppressor regulations around the country," said Ryan Bronson, Director of Conservation and Public Policy for Federal Premium Ammunition.  "Our hunting and shooting customers are benefitting from these regulatory changes and we are happy to support the ASA as they help protect the hearing health of the shooting community."
For more information on Federal Premium, go to www.federalpremium.com.
ABOUT THE AMERICAN SUPPRESSOR ASSOCIATION 
The American Suppressor Association (ASA) is the unified voice of the suppressor industry. Our mission is to unite and advocate for the common interests of suppressor manufacturers, distribu­tors, dealers, and consumers. To accomplish our mission, our principal initiatives focus on state lobbying, federal lobbying, public education, and industry research.
The ability of the American Suppressor Association to operate and advocate for pro-suppressor reform is tied directly to our ability to fundraise. Since the ASA's formation in 2011, 15 states have legalized suppressor hunting, 12 states have passed "Shall Sign" initiatives, and 2 states have legalized suppressor ownership. Much of this would not have happened without corporate support. For more information on corporate sponsorship opportunities, please contact Knox Williams at [email protected], or visit us at www.AmericanSuppressorAssociation.com.