By Tracy Breen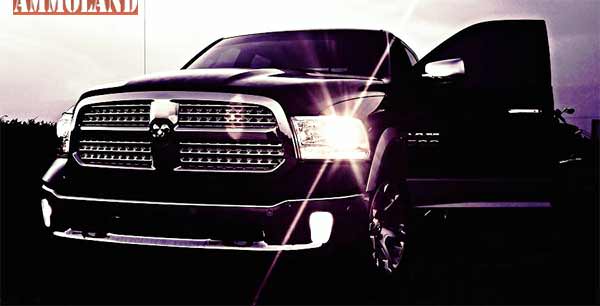 Manasquan, NJ –-(Ammoland.com)- Each fall, I can be found traveling the country hunting big game. I have discovered that having a hunting-friendly vehicle is a must have, especially when I bring my family along.
I need a truck that can hold lots of gear, haul a good size trailer and have plenty of room inside for my family and all of our belongings. Every year I test drive a variety of vehicles.
I am impressed with most of the vehicles I take on hunting trips. There is one truck that stands above the rest. That is the RAM 2500 Power Wagon Larmamie.
In August, I took the RAM 2500 Power Wagon Larmamie out west on an antelope hunt. I packed up my wife and kids and away we went. The first thing I noticed about the truck was all the cargo room. The RamBox cargo management system is a must if you are a hunter who has to pack a lot of gear, especially if that gear is expensive! I put all of my expensive gear including binoculars, game cameras and hunting clothes in the RamBox because the boxes can easily be locked. There is a RamBox on each side of the truck bed so there is plenty of room to store a lot of gear.
I was pleasantly surprised when I looked underneath the floor mats in the back seat and discovered there was an in floor storage bin on each side of the truck. These storage bins can be used to store many things, including drinks. The bins come with a removable liner. We packed the bins with ice and drinks. When the ice melted, we simply removed the liners, dumped out the water and put fresh ice in them. When we were traveling down the highway at 70 miles an hour, my kids could easily reach down and grab a drink.
This prevented us from having to stop to get drinks every hour like we normally would have done in any other vehicle. It is the little things that make a difference, right? The storage bins are something we really liked about the RAM.
The interior of the Laramie is very nice. In fact, you feel like you are driving down the road in a luxury sedan, not a truck. When traveling across the country, riding in comfort is a must and RAM delivers. In addition to a really nice interior, the crew cab model has lots of extra room in the back seat. Both of my kids, all their toys, pillows and extra clothes easily fit back there without a problem. There is so much room a third adult could easily fit back there. If you are looking for a truck with lots of room, this one has it.
The truck is designed to haul a load. The 2015 RAM 2500 Power Wagon Larmamie I was driving is equipped with a 6.4 liter gas engine that can haul almost anything up and down the mountains of the West. With 410 horsepower and 429 pound foot of torque, this truck can move with ease. You're not going to outrun a Corvette, but when hauling a load, you won't even notice you are pulling something with this much power under the hood. The truck has a 11,180 pound max towing capacity. In addition to having plenty of power, it comes with a camera that lets you see what you are doing when you are backing up. This feature allows you to quickly hook up to a trailer or boat in no time instead of going back and forth a half dozen times before hitting the mark.
I own a RAM, so I wasn't surprised by how much fun it is to drive and how user friendly the truck is. It is perfect for long trips and the truck handles great off road as well.
If you are looking for a truck that is going to be perfect for a cross country hunt and for the family, check out the RAM 2500 Power Wagon Larmamie.
About the Author: Tracy Breen is a full-time outdoor writer and marketing consultant in the outdoor industry. He works with a variety of companies including Wilderness Athlete. Learn more about him at www.tracybreen.com.