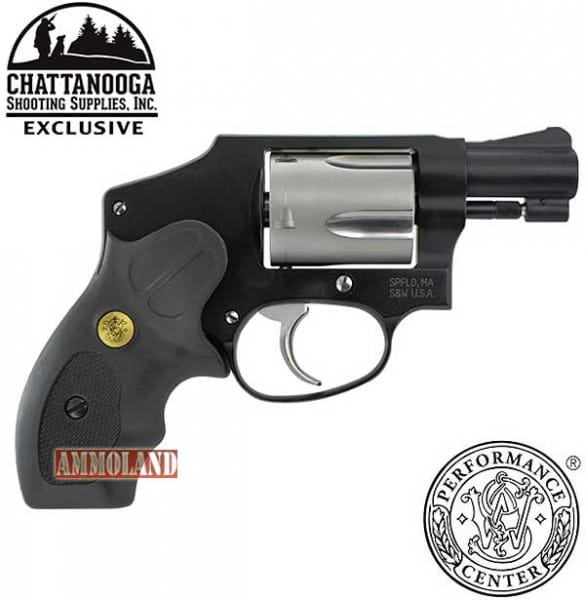 USA – -(Ammoland.com)- A staple in the Smith & Wesson revolver line for the last two decades, the Model 442 Airweight revolver is one of the leading self-defense revolvers available on the market.
Consumers can now own a limited-edition model of this popular S&W J-Frame revolver with today's release of the Chattanooga Shooting Supplies Performance Center Model 442 Exclusive.
Manufactured to the exact specifications of Chattanooga Shooting Supplies, this exclusive revolver has been hand-crafted by highly-skilled Smith & Wesson master gunsmiths and custom built with select features that can only be delivered by the Smith & Wesson Performance Center.
The Chattanooga Shooting Supplies Model 442 Exclusive is chambered for five rounds of .38 S&W Special +P and is constructed on a lightweight, highly durable aluminum alloy frame with a stainless steel cylinder. Ideal for personal protection use, the J-Frame revolver has been enhanced with multiple Performance Center additions including a hand-tuned action, glass bead finish and a high-polished thumb release latch, cylinder flutes and side plate screws.
Easily concealed with its 1.875-inch barrel and internal hammer design, the Model 442 measures 6.31 inches in overall length with an unloaded weight of only 15 ounces. The Performance Center revolver fits naturally in the shooter's hand and has been fitted with a synthetic clip grip for convenient carry when a traditional holster is not in use. The Model 442 is standard with an integral front sight and a fixed rear sight for added durability. The double action only revolver carries the Smith & Wesson lifetime service policy.
For more information on the new Chattanooga Shooting Supplies Exclusive Performance Center Model 442 revolver and how to become part of the Chattanooga Shooting Supplies family, please visit www.ChattanoogaShooting.com
About Chattanooga Shooting Supplies
Chattanooga Shooting Supplies has been providing dealers and sporting goods stores with over 45,000 products to chose from and with a knowledgeable and efficient sales force since 1977. CSSI works closely with the industry to provide sales resources, products and support to help dealers succeed. For more information about Chattanooga Shooting Supplies or to become a dealer, visit www.ChattanoogaShooting.com