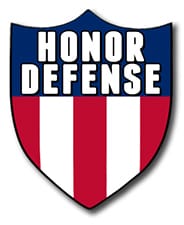 Atlanta, GA -(AmmoLand.com)- Honor Defense, the all American firearms manufacturer is pleased to announce Richard Moore has joined the company as Operations Manager.
Richard will be responsible for running the Assembly and back-end operations for Honor Defense.
"We are thrilled to have Richard join the Honor Defense Team. Richard has extraordinary experience and will be crucial to our high quality standards and stance on exceptional customer service," says Gary Ramey, President of Honor Defense.
Richard Moore is a 20 year military veteran with a degree from Liberty University. He also has a distinguished military career as an ODA Team Sergeant with 7th Special Forces Group out of Fort Bragg. In addition to Operation Just Cause, he also has served in numerous FID deployments as well.
Recently, Richard also has been part of the Military Advisor Support Team for MPRI as well as an Air Operations Manager for Skylink Aviation. For Skylink Aviation, he operated as the Site Manager in Kabul, Lashagar, Gahzni and Herat Afghanistan. While there, he supported NATO military units by managing up to 6 Russian MI-8 helicopters and AN-26 planes and their Eastern European crews.
"I am excited to be with Honor Defense and will ensure that we keep our high operational standards for firearms that are uniquely American," said Moore. "My role is to ensure top quality and operational excellence, and we will do just that."
Please join Honor Defense in welcoming Richard Moore to the outdoor industry as we also thank him for his service to our nation.
About Honor Defense LLC:
Honor Defense offers the finest American­ made pistols ­using only American partners and materials. Honor Defense pistols are built with more features and higher quality standards than other pistols in their size range. To create its pistols, Honor Defense secured input from a panel of professionals that have defended our nation or have extensive credentials in self­ defense training.
For more information, please visit www.HonorDefense.com.