Iconic American Company Set to Emerge from Chapter 11 by Year End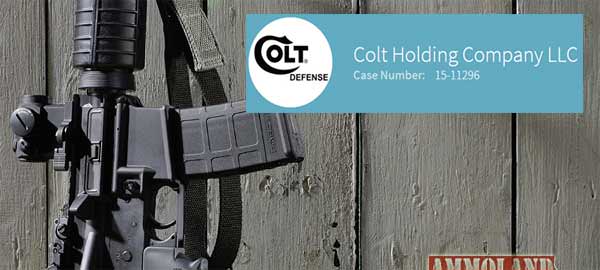 West Hartford, CT -(AmmoLand.com)- Colt Defense, LLC ("Colt" and the "Company") today announced that the United States Bankruptcy Court for the District of Delaware (the "Court") has confirmed the Company's Second Amended Joint Plan of Reorganization ("the Plan").
The Plan received full support from all of the Company's stakeholders. Upon completion of the restructuring process, which is expected to occur in the coming weeks, the Plan will significantly restructure and reduce the Company's debt, improve its capital structure and enhance its liquidity profile. The Company will also have a new lease for its West Hartford Facility and the Plan reaffirms the Company's strong relationship with the UAW.
The Plan finalizes a global settlement of all outstanding issues in the cases, achieved through a consensus reached among Colt's key stakeholders, including a consortium of Colt's secured lenders, Morgan Stanley as the lender under Colt's pre-petition and post-petition secured term loan facilities, the official committee of unsecured creditors appointed in Colt's bankruptcy cases, Sciens Capital Management and the landlord at Colt's West Hartford facility.
In conjunction with today's confirmation, Colt also announced that it has reached an agreement with the United Auto Workers Union that resolves issues relating to retiree medical benefits.
"Today we achieved the last important milestone on Colt's path to emerging from Chapter 11 as a stronger and more competitive company," said Dennis Veilleux, President and Chief Executive Officer of Colt Defense LLC. Mr. Veilleux added, "We greatly appreciate the dedication and support of our extraordinary employees during this process, as well as the support we received from our financial stakeholders, Sciens Capital and our customers and vendors."
Perella Weinberg Partners L.P. is acting as financial advisor of the Company, Mackinac Partners LLC is acting as restructuring advisor of the Company and O'Melveny & Myers LLP is the Company's legal counsel.
For access to documents filed in the United States Bankruptcy Court for the District of Delaware, including the Second Amended Plan and related Disclosure Statement, and other general information about these Chapter 11 cases, please visit: http://www.kccllc.net/coltdefense.
Forward Looking Statements:

This press release contains "forward-looking statements." These statements about Colt's expectations, beliefs, plans, objectives, assumptions and future events are not statements of historical fact and reflect only Colt's current expectations regarding these matters. Colt's actual actions and results may differ materially from what is expressed or implied by these statements due to a variety of factors, including (i) the potential adverse impact of the Chapter 11 filings on Colt's liquidity or results of operations, (ii) changes in Colt's ability to meet financial obligations during the Chapter 11 process or to maintain contracts that are critical to Colt's operations, (iii) the outcome or timing of the Chapter 11 process and the Section 363 process, (iv) the effect of the Chapter 11 filings or the Section 363 process on Colt's relationships with third parties, regulatory authorities and employees, (v) proceedings that may be brought by third parties in connection with the Chapter 11 process or the Section 363 process, (vi) the Court approval or other conditions or termination events in connection with the Section 363 process, (vii) the increased administrative costs related to the Chapter 11 process; (viii) Colt's ability to maintain adequate liquidity to fund operations during the Chapter 11 process and thereafter and (ix) other factors listed from time to time in Colt's filings with Securities and Exchange Commission. Forward-looking statements in this press release speak only as of the date on which they are made and Colt undertakes no obligation to update or revise any forward-looking statements, whether as a result of new information, future events or otherwise, except as required by law.
About Colt:
Colt is one of the world's leading designers, developers and manufacturers of firearms. The company has supplied civilian, military and law enforcement customers in the United States and throughout the world for more than 175 years. Our subsidiary, Colt Canada Corporation, is the Canadian government's Center of Excellence for small arms and is the Canadian military's sole supplier of the C7 rifle and C8 carbine. Colt operates its manufacturing facilities in West Hartford, Connecticut and Kitchener, Ontario.
For more information on Colt and its subsidiaries, please visit www.Colt.com.