Uniforms, medals and 70 lots of weapons span Civil War through 20th century conflicts
Southampton, PA -(AmmoLand.com)- Two advanced private collections have merged in perfect formation as the core of Stephenson's Friday, December 11 Militaria & Firearms Auction.
The 400-lot sale includes uniforms, a wealth of US and Nazi Germany World War II medals, insignias and memorabilia; and approximately 70 lots of antique and vintage firearms. All forms of bidding will be available, including live via the Internet.
Most of the uniforms to be auctioned are from a single collection. One of the top entries is a full uniform presumed to have been the property of Donald R. Infante, a brilliant US Army major general credited with changing the way America's ground-based air defense operated. Infante was the subject of a book titled The Infante Years.
An accompanying letter from the previous owner states that the uniform, which is estimated at $200-$300, was, indeed, Infante's. The highly decorated general's military patches and ribbons, many from the Vietnam era, are offered in the sale, as well.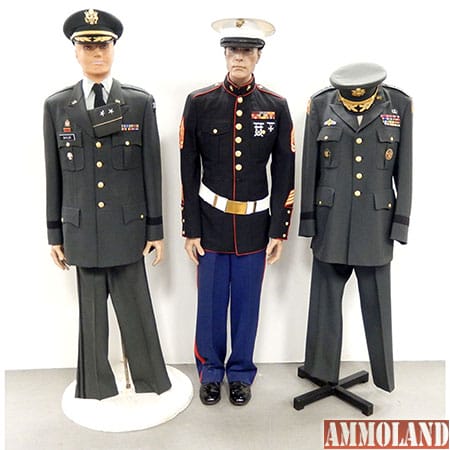 A second notable uniform from the same collection belonged to Major General James B. Baylor, who served in the 99th Division of the US Army, and the Army Reserve. Baylor's name is stitched into the jacket, and his business cards are included in a leather wallet held inside one of the pockets. The estimate for the uniform is $200-$300.
Other uniforms of particular interest to collectors include an original World War II Nazi wool coat with a swastika armband and "SS" cuff band, $1,000-$1,500; and a World War II US Marines uniform, $200-$300.
The auction includes two flags: a 48-star American Flag and a World War II Japanese kamikaze good luck flag known as a "Hinomaru Yosegaki," estimate $300-$400. Also dating from the Second World War is a large selection of medals and insignias, both American and Nazi. Most will be sold individually, with the average estimate being $100-$200.
A swashbuckling selection of swords and daggers includes examples from the Civil War, World War I and II, and other conflicts. In addition to American productions, there are French and German edged weapons and Japanese bayonets.
A rare World War I government-issue trench knife is expected to make $600-$800, while a German World War II SS-type black dagger with scabbard could reach $800-$1,200.
A coveted 1862 US Civil War-era naval cutlass sword with scabbard, made in Massachusetts by Ames Mfg Co, is estimated at $500-$700.
Within the 70-lot grouping of antique and vintage firearms are many cap-and-ball black powder rifles and shotguns. Two of the best are a Renette Paris France inlaid silver and gold black powder ½-inch-bore shotgun, $4,000-$8,000; and an 1857 M Aragon sporting long gun, also with gold and silver inlay, $4,000-$6,000.
Other firearms include revolvers, pistols, a Mossberg 12-gauge shotgun, est. 300-$500; a 1910 Colt Pocket semi-automatic pistol, and other semi-automatics.
All modern firearms purchases are contingent upon a background check and, if shipped out of state, can only be sent to licensed firearms dealers. Additional details on the process may be obtained by contacting Stephenson's Auctioneers.
Stephenson's Friday, December 11, 2015 Militaria & Firearms Auction will commence at 10 a.m. Eastern Time. Bidders also may participate by phone, absentee or live via the Internet through LiveAuctioneers, Invaluable, AuctionZip.
The pre-auction inspection at Stephenson's gallery will be held on Thursday, December 10 from 3 till 6 p.m., or on auction day from 9-10 a.m. The gallery is located at 1005 Industrial Blvd., Southampton, PA 18966, near Philadelphia.
View the fully illustrated online catalog and sign up to bid absentee or live via the Internet at www.liveauctioneers.com, www.invaluable.com, or www.auctionzip.com.
For additional information on any lot in the sale or to organize a phone line, call Stephenson's Auctioneers at 215-322-6182 or e-mail [email protected] Visit Stephenson's Auctioneers online at www.stephensonsauction.com.