By Mike Searson
ArmaLite M-15 Light Tactical Carbine Review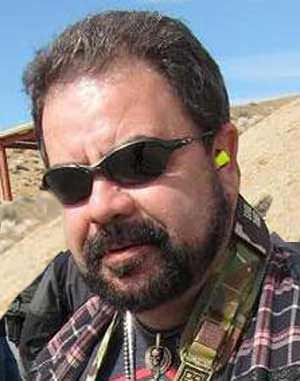 USA –  -(Ammoland.com)- One of the myths of the popular AR15 platform is that the "AR" designation refers to either "Assault Rifle" or "Automatic Rifle".
Those of us who know better know that it stands for the first two letters of the company who invented it: ArmaLite.
ArmaLite is still building quality firearms and they sent us a M-15 Light Tactical Carbine sample for test and evaluation a few weeks ago.
This model was the ArmaLite M-15 Light Tactical Carbine. ( M15LTC16 )
Standard features on the rifle include a chrome lined barrel, their rail less forend, a two-stage target trigger, monolithic upper and a hardened bolt carrier. They have a new rail system on their forend which is ,mostly Key mod, except for the monolithic top rail.
ArmaLite M-15 Light Tactical Carbine
We ran the rifle with a Lucid Optics HD-7 and a MagPul Sling. Sometimes you just want to keep things simple.
The first thing that grabbed us was not only how light their rail system is, but the fact that you needed no rail covers in order to shoot it without it becoming uncomfortable. Simply put the rails where you need them. Having a sub 7-pound rifle is a good thing, too.
The new style rail system is a Godsend. Its plug and play design allows the shooter to truly customize their rifle while shaving off the significant weight of the Picatinny rail system. For a running and gunning rifle it is a performer.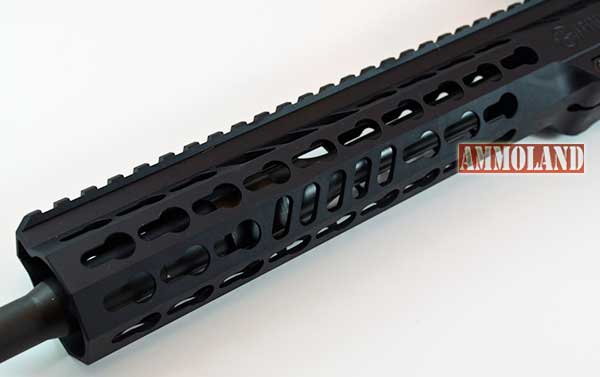 If you just want the bare minimum because you plan to customize the rifle, this is a good base model to start. Sure it is more expensive than "Joe Bob's JB-15 lower" and a questionable "door buster upper", but if you're a pure builder, you have no recourse if anything goes wrong with your build. If you start with an Armalite and add optics, lights, slings and other accessories, you have won half the battle.
The trigger is nice and really makes the difference on the ArmaLite M-15 Light Tactical Carbine. We shot one-ragged hole at 100 yards and put 200 rounds into a 2" group with no flyers, failures to feed or problems of any sort while using the Lucid HD-7 optics.
Some may see this as a good thing, but the rifle ships as a pretty bare bones unit with no sling, adapters or other accessories.
Operation on the ArmaLite M-15 Light Tactical Carbine is direct impingement.
At $999 MSRP, it may not be an entry level AR for shooting dirt on the Back 40. This is more of a rifle ready to go for a three gunner, precision shooter or for home-defense or police patrol use.
With so many companies producing ARs these days running the gamut from $499 Black Friday "deals" to $4000 masterpieces, it can be challenging to remember if a particular manufacturer is horrid, decent or one of the better manufacturers. ArmaLite is one of the names you can trust.
After all, they put the AR in AR15!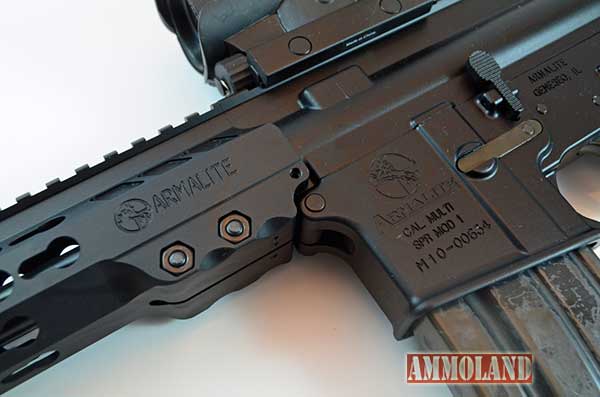 ArmaLite M-15 Light Tactical Carbine Specs:
Model : M-15 Light Tactical Carbine ( M15LTC16 )
Caliber : 5.56X45 mm / .223
Barrel : 16″ Chrome Lined / Chrome Moly, Threaded 1/2-28 Mid-length gas system
Rifling Twist : 1:7″ RH
Muzzle Device : Flash Suppressor
Front Sight Base : MIL-STD 1913 Rail on 12 O'clock Position of Handguard
Handguard : 10″ Aluminum Tactical Key-Mod
Stock : 6-Position Collapsible
Upper Receiver : Forged, Flat-Top with MIL-STD 1913 Rail, 7075-T6 Aluminum
Lower Receiver : 7075-T6 Aluminum (Forged)
Safety : Standard
Trigger : Single-Stage
Charging Handle : Standard
Finish : Anodized aluminum upper/lower receiver and handguard. Maganese phosphated steel barrel
Overall Length : 32.0″ / 35.3″
Weight : 6.0 lbs.
Included : One 30-Round Steel, Owners Manual, Chamber Flag
Warranty : Limited lifetime
ArmaLite M-15 Light Tactical Carbine Resources:
ArmaLite M-15 Light Tactical Carbine Maunal : https://armalite.com/files/2015/01/SPR-Mod-1-Carbines.pdf
ArmaLite M-15 Light Tactical Carbine Product Page: https://armalite.com/shop/m-15-light-tactical-carbine/
ArmaLite Armalite M-15 Light Tactical Carbine Videos
About Mike Searson
Mike Searson's career as a shooter began as a Marine Rifleman at age 17. He has worked in the firearms industry his entire adult life as a Gunsmith, Ballistician, Consultant, Salesman, Author and was first certified to teach firearms safety in 1989.
Mike has written over 2000 articles for a number of magazines, websites and newsletters including Blade, RECOIL, OFF-GRID, Tactical Officer, SWAT, Tactical World, Gun Digest, Examiner.com and the US Concealed Carry Association as well as AmmoLand Shooting Sports News.
Home page: www.mikesearson.com
FB: www.facebook.com/mike.searson
TWITTER: www.twitter.com/mikesearson