Gun-Free Zone Riddance
© 2016 by Phillip Evans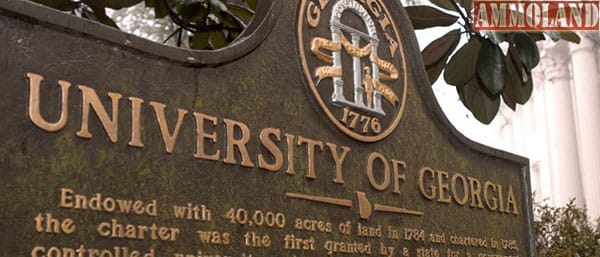 United States -(AmmoLand.com)- "I will get rid of gun-free zones on schools, and — you have to — and on military bases. My first day, it gets signed, okay? My first day. There's no more gun-free zones," said Republican Presidential candidate Donald Trump.
This is a great thing indeed!
Ending these two victim zones will help insure there are less victims in the future. Trump rightly characterized these so-called "gun free zones", as "bait" for criminals.
The question though, is how he will fully implement this promise? Regarding schools, he could ask Congress to withhold federal funding from public school systems in states that do not allow licensed carriers of firearms to enter schools whenever they have legitimate business to be there.
HB 826 – Campus Carry
Don't get me wrong, I am not asking Trump, should he become President, to hit Georgia over the head to decriminalize K-12 and college campus carry throughout our state. I believe that is something the Georgia General Assembly is of a mind to do anyway.
In fact, Georgia already passed K-12 and college carry!
And almost unanimously (with only two dissenting Senate votes) with the House and Senate overwhelmingly voting Yes for HB 826 in 2014, known as Act 575. It was then signed into law by Governor Nathan Deal. This law fully decriminalized firearm carry on school property, at school events on other property, and inside school buildings at all public K-12 schools and colleges, for those who possess a valid weapons carry license.
Houston We Have A Problem
So what happened with the new campus carry law in Georgia that was supposed to have gone into effect July 1st, 2014? It had passed by a super majority of elected law-makers, and Governor Deal, who had publicly committed himself to sign all pro-gun legislation put his signature on it.
The problem is that there are four branches of government in Georgia – Executive, Legislative, Judicial, and the Code Revision Commission.
The fourth and most powerful branch, the Code Revision Commission has the final say on what becomes law by either putting it in or leaving it out of the Official Code of Georgia (OCGA).
The Code Revision Commission, under pressure from the Georgia Board of Regents, decided to leave it out. The GBoR is the one state governing and management authority overseeing all public colleges and universities in the state. The GBoR in its wisdom does not want to see licensed 21 year old and older adults able to legally and without fear of jail carry a firearm for self-defense purposes on any of its college campuses. 
Violent Crime Up On And Near School Campuses
This, in spite of violent crime such as armed robberies and rapes escalating on and around college campuses.
There are several threads at Georgia Packing reporting on these crimes. Mountain pass (Jeffrey Anderson) over there does a great job keeping up with the news on campus crime and posting about it.
Play It Again, Sam 
Georgia Carry sued the Governor and the Code Revision Commission to get HB 826 duly recognized as law, but we lost in Superior Court.
The Georgia General Assembly allowed 2015 to go by without doing a repeat of HB 826, perhaps in order to regroup and figure out a way they can pass K-12 school and college carry again in order to get it into the OCGA without the Code Revision Commission keeping it out.
After a year of study, I believe our legislators have come up with a way to make it stick this time, and I eagerly await to see how they will do it.
Georgia Weapons Carry License Seal of Approval
All licensed, background checked adults deserve the God-given liberty to protect themselves and their children from criminals, even when in or on any school property.
Bullies like the Code Revision Commission-GBoR branch of state government should not have the final say in what is passed and signed into law.
If the Georgia Weapons Carry License (GWCL) is the Gold Standard, I'm hopeful the Gold Dome will honor it as such. We have been vetted as much as any licensed carriers can be. We ALREADY carry firearms around children in public parks, libraries, recreation centers, and other places. 
New Day Coming
Possible future President Trump seems to understand that when people are able to defend themselves from evil-doers, the body count is greatly reduced. How much that should ring true to our hearts when defending our most precious citizens – our children!
Our great state of Georgia should close the door now on our current vulnerability to a Newtown style massacre happening here. Life is too precious to not do so. 
I'm hopeful this message is heard by our friends in the Georgia General Assembly.
About Phillip Evans:
The author is a self-defense rights advocate and member of the NRA, GeorgiaCarry.org, and FloridaCarry.org, and posts at PursuitOfPatriotism.Blogspot.com.