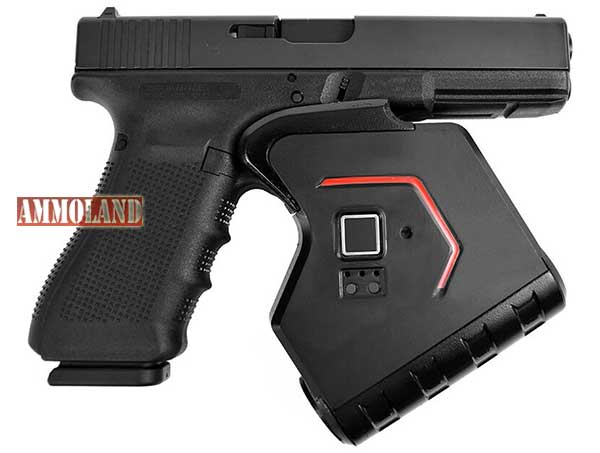 Detroit, MI – -(Ammoland.com)- After three years of development, the IDENTILOCK smart gun lock will be available for online purchase on Jan. 6th, 2016 5 PM ET.
The revolutionary device, produced by Sentinl, uses fingerprint technology to allow split-second access to a gun only for authorized users.
IDENTILOCK clamps to the firearm, preventing access until activated by the authorized fingerprint. Multiple sets of fingerprints can be authorized to unlock the gun, allowing access to trusted users. Designed for versatility and to fit virtually every gun, a full list of compatible firearms is available online here.
"IDENTILOCK is a solution that allows responsible firearm owners to protect themselves and their families at the same time," said IDENTILOCK inventor Omer Kiyani.
Kiyani, a Detroit-based automotive safety engineer, whose advisers include Tom Lasorda, former CEO of Chrysler, enlisted a multi-disciplined team of designers and engineers to create a safety mechanism that allows instant gun access while prioritizing reliability. IDENTILOCK's technology includes fingerprint authentication similar to the iPhone 6.
IDENTILOCK's latching mechanism uses technology NASA's chose for Mars Rover to create a device able to withstand hundreds of pounds of physical force.
The device… expends a half a year's worth of battery life before needing recharging. All design and manufacturing takes place in Detroit and IDENTILOCK is built on the same assembly lines used by major automotive OEMs.
"As a gun owner myself, I understand how IDENTILOCK must be completely reliable," he said. "Through my own expertise and network, I've incorporated only the most advanced technology designed by the nation's best safety engineers to create a product that works effectively, every time."
Kiyani created IDENTILOCK by winning Smart Tech Challenges Foundation Firearms Challenge – a Silicon Valley- based gun safety organization cofounded by Ron Conway, and the backing of IncWell venture capital firm. As a gunshot survivor, he said IDENTILOCK is a product everyone can get behind.
"I wanted to create a simple solution that everyone can get behind. Gun owners are most compelled to reduce accidents related to firearms. I knew IDENTILOCK couldn't be built in a garage, so I got backing of industry giants."
The device costs $319 and is available for purchase online, with an expected delivery date in summer 2016. IDENTILOCK achieved a major milestone in American history by being the first ever Gun Safety Technology Startup to exhibit at CES 2016 Jan. 6-9. In addition it will also be exhibiting at SHOT Show 2016 Jan. 19-22 2016 in Las Vegas.
To purchase and for additional information visit www.GetIdentilock.com. https://www.facebook.com/identilock