Editors Note: This event is 2A FlashMob Approved, anyone attending will automatically qualify for their own FREE 2A Mob Patch.
Illinois –  -(Ammoland.com)- Renegade priest Father Pfleger will highlight a panel on gun control the evening of Saturday, February 27th 2016 at St. Barnabas Church.
Pfleger is certain to once again exploit his position as a clergyman to call for the abolishment of your 2nd Amendment rights.
It's important to keep in mind that Pfleger has called for anti-gun activists to drag gun shop owners into the streets like dogs and "snuff" them. Pfleger has also called on his supporters to "snuff" elected officials who support gun rights. It's important for all pro-gun people to look Pfleger in the eye and stand up for their rights.
WHAT YOU MUST DO TO PROTECT YOUR RIGHT TO KEEP AND BEAR ARMS:
1. Whether you can make the event or not, be sure to call St. Barnabas' Church and ask if the event is still scheduled. Also politely tell the person who answers that you are a law-abiding Illinois gun owner and that you do not support Pfleger's attacks on the 2nd Amendment. The number for the church is (773) 779-1166.
2. Attend the anti-gun meeting. It will be held on Saturday, February 27th at St. Barnabas Church, 10134 S. Longwood, Chicago. The event begins at 6:00 PM, so try to be there at 5:30 to get a good seat.
3. Dress "undercover" so nobody knows your position on guns until after the meeting begins.
4. Vigorously defend your right to keep and bear arms! Enthusiastically challenge any proposal that would diminish your rights.
5. If you see the media there, approach them and tell them that you are a law-abiding Illinois gun owner and that you oppose Pfleger's attempts to destroy our Constitution.
6. Pass this alert on to all your gun-owning friends and family and tell them to call the church and attend the meeting.
7. Post this alert to any and all Internet blogs, bulletin boards, and social media sites to which you may belong.
REMEMBER – GUN CONTROL IS A DISEASE AND YOU ARE THE CURE
About Illinois State Rifle Association:
The Illinois State Rifle Association is the state's leading advocate of safe, lawful and responsible firearms ownership. Since 1903, the ISRA has represented the interests of over 1.5 million law-abiding Illinois firearm owners Visit: www.isra.org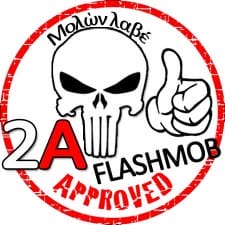 About 2A Flashmob: 
In an effort to motivate gun owners and Second Amendment Supporters to show up in person at important events and rallies AmmoLand Shooting Sports News is giving away FREE 2A Flashmob Patches to anyone who attends a protest, rally, open carry event, committee hearing at your state capital or a Moveon.org counter protest. (You may already be eligible)
Spread the word, get out, get active!  https://www.ammoland.com/2a-flashmob-patches/