Mounting a scope on a lever rifle can be down right beautiful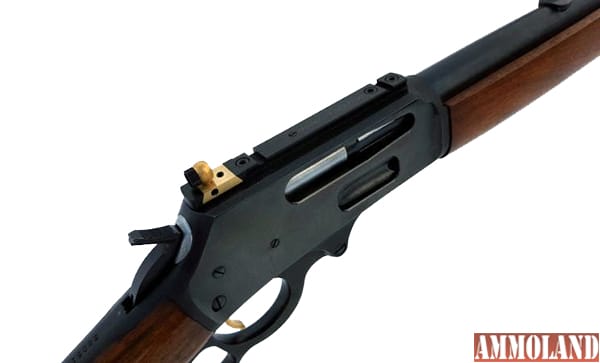 Saint Ignatius, MT -(AmmoLand.com)- The Skinner Express lever action scope base with aperture back up makes for great looks and performance.
If gun sights and mounts were in a beauty contest, this might well be the easy winner. The legendary Skinner brand Express Scope base and back up aperture sight base is precision machined from solid carbon or stainless steel bar stock making that much loved lever gun all that much better looking when scope mounted.
The Skinner Express base and sight fixture fits Marlin 1895/336, all large frame Marlin lever actions and Henry large frame .30-30s, .45-70s and the new Henry .308 Win.
Engineered to precisely fit using the factory drilled and tapped scope mounting holes the Skinner Express needs no gun smithing. All screws, instructions and tools are included in the package. The Skinner base will accept either Warne 7.3 or medium high Talley rings.
Should something disable the scope in the field (it happens) simply remove scope and rings and continue on using the precision aperture back up sight. The "iron" sight features removable inserts in 0.096 diameter from the factory with optional inserts at $11.00 each in 0.040, 0.070, 0.125, 0.155-inch diameter and if the insert is left out the sight becomes a ghost ring, handy for heavy cover shooting.
For that extra bit of bling the Black Gold combination of polished blued steel base and brass windage dovetail and aperture sight stem is stunningly beautiful on either a brass or blued rifle.
Andy Larsson, owner says, "I can make more money by cranking out mass production but I also got into this business due to my love of beautiful rifles. Our sights and systems reflect one at a time precision fit and finish and a level of craftsmanship befitting any firearm regardless of brand or cost."
MSRP:
Blued carbon steel……$169
Stainless steel………….$179
Black Gold……………..$189
Nearly 50 percent of buyers order the Black Gold (photo)combination. Rings NOT included. The base will take Warne 7.3 or medium-high Talley rings.
Skinner Sights has a large variety of sights and bases of many brands and types of firearms.
About Skinner Sights:
Skinner Sights are handcrafted in my small shop in St. Ignatius, Montana. Machined from solid steel, stainless steel or brass bar stock, the parts are hand fitted to close tolerances. We have worked hard to design sights which are not only extremely functional and rugged, but to also complement the firearm. I make a limited number of high quality sights at a reasonable cost to the customer. Skinner SightsTM are inexpensive, but not cheap and my customer service is second to none. Through field testing I continue to improve the designs for function, durability and appearance. Our sights are guaranteed with a 30 day, money back, policy. Your satisfaction is very important to me. If at any time your sight needs to be repaired, I do so at no charge.
For more information, visit: www.SkinnerSights.com.