Andy Stevens Needs Your Help to Defeat Steve Troxler for Agricultural Commissioner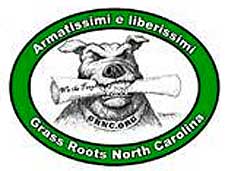 Raleigh, NC -(Ammoland.com)- Andy Stevens is running against anti-gun Steve Troxler for Agricultural Commissioner. Troxler has a history of acting like a King when it comes to our gun rights.
Troxler Violated Law and Posted the NC State Fair as a gun free zone:
http://www.grnc.org/defend-your-rights/press-releases/689-troxler-to-post-nc-state-fair-in-violation-of-law. Gun-free zones are dangerous places for law-abiding citizens. No family should be rendered entirely helpless should an event occur such as what happened at the Wisconsin State Fair in 2011.
Related – Troxler on State Fair Security:
http://grnc.org/grnc-alerts-archive/705-grnc-alert-10-24-14-troxler-lies-about-fair-security. Troxler misled the public when he promised tight security. The metal detectors that didn't work and police escorts that didn't happen left many concerned families frustrated. Andy Stevens won't mislead you and your family about a risky situation and won't ask you to put yourself at risk. Troxler's attacks on gun rights and the ability to defend ourselves at the State Fair are unacceptable.
"I unequivocally support the right of citizens to exercise their 2nd Amendment birthright. This right extends even to the State Fairgrounds in Raleigh. As Commissioner of Agriculture and Consumer Services, I will lift the present restriction denying nearly 500,000 North Carolinians who possess a Concealed Cary Permit permission to legally carry a firearm in accordance with the law." – Andy Stevens
Troxler the Chicken Wrangler:
http://www.indyweek.com/indyweek/north-carolina-backyard-chicken-owners-revolt-against-the-states-registration-mandate/Content?oid=4830681. Even Indy Week recognized that this move by Troxler favored big agricultural companies over the small chicken owner. There is no room in Raleigh for a politician that favors one business over another using taxpayer money.
Most Recent Scandal – Corruption, Graft and Deer:
http://www.grnc.org/grnc-alerts-archive/794-grnc-alert-08-18-15-will-troxler-scheme-destroy-deer-hunting.
Troxler has taken at least $18,600 in campaign donations from a wealthy retired CEO and his corporate cronies, and went on to advocate a bill that could decimate deer hunting in North Carolina.
IMMEDIATE ACTION REQUIRED/ACTION ITEM 1
Call "King" Troxler at (919) 707-3000 and tell him to resign. Copy & Paste this email address for "King" Troxler [email protected] (no relation to Andy Stevens) or use his NC web page at http://www.ncagr.gov/htm/contactusform.htm to send him a message and deliver this message:
Mr. Troxler,


Criminals don't care about your illegal gun ban at the NC State Fair. Criminals carry guns without a background check. Criminals don't need a PPP to purchase a gun. Criminals carry concealed guns without a CHP. Criminals don't have to pay for a PPP, a CHP, a safety course, an application fee or fingerprints. Criminals don't have their mental health investigated. Criminals don't face confiscation of their property. Criminals don't tell LEOs that they have a gun in the vehicle when they're pulled over. Criminals don't store their gun in a legal manner. Criminals are given a revolving door in the "justice" system and are back out on the street. Criminals don't pay for their guns; they steal guns from law abiding citizens. Criminals commit crimes against the persons of law abiding citizens and the property of law abiding citizens. Criminals don't have to hire a lawyer when they commit a crime with a gun because the law abiding citizens who they violate pay for free legal counsel for them. Your illegal ban of guns at the NC State Fair puts the citizens of NC at risk.


You should resign immediately.


Sincerely,
Next, help Andy Stevens out in three ways.
IMMEDIATE ACTION REQUIRED/ACTION ITEM 2
MAKE A CONTRIBUTION TO ANDY STEVEN'S CAMPAIGN: Click here to go the contribution page (or go to: http://electandystevens.com/index.php/donate).
VOLUNTEER TO WORK ON ANDY STEVEN'S CAMPAIGN: Click here to volunteer (or go to: http://electandystevens.com/index.php/volunteer). Providing local grass roots organization and support can make a big difference in the outcome
POST AN ENDORSEMENT expressing your support for Andy Stevens at http://electandystevens.com/index.php/endorse-andy
About Grass Roots North Carolina:
Grass Roots North Carolina is an all-volunteer organization dedicated to preserving the freedoms guaranteed us by the Bill of Rights. Our main focus is the right to keep and bear arms. GRNC was central to drafting and passing North Carolina's concealed handgun law and since that time has continued to push for improvements to gun laws.
For more information, visit: www.grnc.org.