A harrowing glimpse into the secret world of modern espionage…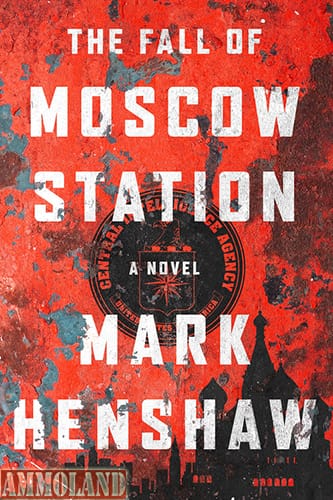 United States -(AmmoLand.com)- CIA analyst and former member of the Red Cell think tank, author Mark Henshaw is back with his latest exciting espionage thriller, THE FALL OF MOSCOW STATION: A Novel (Touchstone Hardcover; February 16, 2016; $26.00; ISBN: 9781501100314).
The Washington Times called Henshaw's debut novel Red Cell (2012) "a suspenseful thriller" and a starred Publishers Weekly says that Henshaw's novels are "worthy of Tom Clancy." His newest novel is an action-packed, adventure tale as CIA analyst Jonathan Burke and agent Kyra Stryker try to save the CIA's sources in Russia after a major intelligence breach leaves Moscow Station in ruins.
When a body with Russian military tattoos is found floating in a lake outside Berlin, the CIA immediately takes notice. The body is identified as the director of Russia's Foundation for Advanced Nuclear Research, and is also a CIA asset. Realizing that the murder has coincided with the defection of one of the CIA's upper-level officers, analyst Jonathan Burke at the Red Cell, the CIA's out-of-the-box think tank, and agent Kyra Stryker are quickly put on the case.
Disgruntled Alden Maines is jaded after years in the CIA cleaning up the messes of incompetent political appointees in dangerous foreign posts. When he is passed over for promotion, Maines crosses the Rubicon and decides to cash in as a double agent for Russia.
While Maines dreams of off-shore bank accounts and a new, secret life of luxury, Arkady Lavrov of Russia's intelligence service (GRU) has other, darker plans. He immediately announces Maine's defection to the world and then pumps him for every last ounce of intel, knowing that Maines has nowhere to go and no allies left. Maines must give him the name of every agent in the CIA's Moscow Station and their asset working in the Kremlin. But why would Lavrov burn an asset whose intel and access could pay dividends for years to come? Jonathan and Kyra must track Lavrov's suspicious and dangerous movements from Berlin to Moscow to get answers.
Henshaw adapts from his experiences with the CIA Red Cell unit. The Red Cell is a real "devil's advocate" analysis unit created on September 13, 2001 by then CIA Director George Tenet to "tell me what no one else is telling me." THE FALL OF MOSCOW STATION is authentic, compelling, and brings current-day issues to the forefront, as Burke and Styker navigate a Russian government. A revealing novel that offers a detailed journey into the intelligence world that only someone on the inside could write; THE FALL OF MOSCOW STATION is sure to be one of the top thrillers of 2016!
Advance Praise for THE FALL OF MOSCOW STATION:
"Henshaw's narrative is a high-tension page-turner, and his tough-minded, independent, and deadly Kyra Stryker is ready to run with the likes of Reacher or Bourne." – Kirkus Reviews

"…Fine third spy thriller…Readers will hope the appealing Kyra will continue to play as active a role in future installments." – Publishers Weekly

"Henshaw's 11 years as a CIA analyst make parts of this novel gripping and plausible for spy fans."– Booklist

"Henshaw's credentials as a decorated CIA analyst shine in his addition to his Red Cell series. Henshaw writes espionage with skill and knowledge."  – RT Book Reviews

"CIA officer Kyra Stryker is operating black in Moscow, a target on her back, trying to save Russian sources running for their lives.  A real-life thriller from a CIA analyst who gives us a harrowing glimpse of the secret world of modern espionage.  It's happening now, and Henshaw delivers with a bang."– Jason Matthews, New York Times Bestselling of author Palace of Treason and Red Sparrow
The FACTS in The Fall of Moscow Station:
All of the locations in The Fall of Moscow Station are real, except for the Moscow safe house. The descriptions of all location exteriors and interiors are accurate, including the headquarters of Russia's Military Intelligence Directorate (GRU); the Lubyanka Building, now the headquarters of Russia's Federal Security Service (FSB); the Russian Embassy in Berlin, Germany; the White House; the Supermax Penitentiary in Florence, Colorado; and CIA Headquarters. The now-abandoned Soviet Vogelsang nuclear missile base in Germany (53° 3′ 3″ N 13° 22′ 18″ E or https://goo.gl/maps/x2Kgzo9qWRs if you want to look it up on Google Maps) is a real facility.
All of the institutions referenced in The Fall of Moscow Station are real, including the Russian GRU, SVR, FSB, and Spetnaz; and the Russian Foundation for Advanced Research.
All of the historical events referenced in The Fall of Moscow Station are real, including Chief Executioner of the Soviet Union Vasily Blokhin's personal executions of several thousand Polish soldiers in one month in 1940; and the 1896 massacre that attended the coronation of Tsar Nicholas II.
All military and other equipment in The Fall of Moscow Station is accurately described and either has been used or is still in use by the organizations or institutions that use them in the book.
The CIA Red Cell is a real analytical unit that resides in 2G31 Old Headquarters Building at Langley.
Alden Maines is based loosely on real CIA officer Edward Lee Howard, who defected to the Soviet Union on or around 21 September 1985. Howard died in Russia on July 12, 2002 after allegedly falling down the stairs of his dacha and breaking his neck.
The Fall of Moscow Station's inciting event is based on the real unexplained August 6, 2010 death of General Yuri Ivanov—the GRU second-in-command—who went missing after he toured a new Russian naval facility at the Syrian port of Tarturus. Several days later, his decomposing body washed up on the Turkish beach of Hatay near the Syrian border. The Russian government reported that he had drowned in a swimming accident while visiting a Syrian resort near Latakia.
The Supermax prisoner on-boarding procedures described in the final chapter are accurate.
The FICTION in The Fall of Moscow Station:
With the exceptions of Josef Stalin, Vasiliy Blokhin, and Vladimir Putin, all characters in The Fall of Moscow Station are fictional.
The Moscow safe house described in the story is fictional.
Obviously, the events of The Fall of Moscow Station—except for those listed on the Facts page—are fictional.
THE FALL OF MOSCOW STATION: A Novel is available for order on Amazon : http://tiny.cc/f98y8x
By Mark Henshaw
Touchstone Hardcover
On Sale: February 16, 2016
Price: $26.00
ISBN: 9781501100314 / ISBN 10: 1501100319
For more information on THE FALL OF MOSCOW STATION, please visit: www.markhenshaw.com or www.simonandschuster.com.
About the Author:
MARK HENSHAW is a decorated CIA analyst with fifteen years of service. He is the recipient of eighteen (18) Exceptional Performance Awards and the Director of National Intelligence's 2007 Galileo Award for innovation in intelligence analysis.
Mark holds a bachelor's degree in Political Science (BYU '95) and master's degrees in Business Administration (BYU Marriott School of Management) and International Relations (BYU Kennedy Center for International and Area Studies '99). He is a graduate of the Sherman Kent School's Advanced Analyst Program.
Mark is a native of the great Commonwealth of Virginia, where he resides with his family. Having grown up surrounded by Jamestown, Colonial Williamsburg, Monticello, Mount Vernon, and an astonishing number of Civil War battlefields, he has an abiding passion for 18th and 19th century US history and gives the occasional tour of the Antietam and Gettysburg battlefields (neither in VA, but two of the few places for which Mark is willing to leave the state). Mark also plays war games, programs computers, studies the culinary arts, and listens to far more Bruce Hornsby music than is healthy.