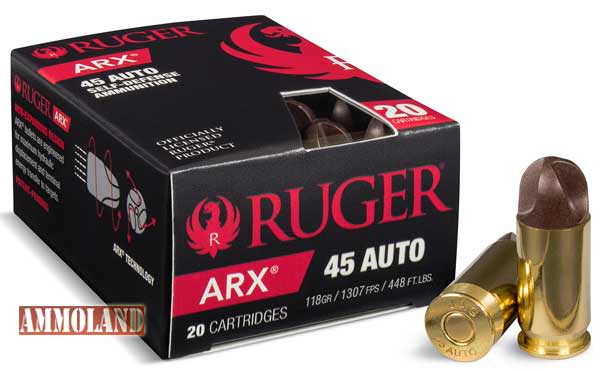 Savannah, GA -(AmmoLand.com)- PolyCase Ammunition, LLC, the manufacturer of state-of-the-art injection-molded ammunition, is pleased to announce that its Ruger-branded ammunition is now available through Davidson's, Inc. Davidson's will be offering the entire Ruger ARX line of ammunition to gun and sporting goods dealers nationwide.
"With Davidson's commitment to operate their business for the convenience of their customers, working with PolyCase on their Ruger line was a natural fit," comments Larry Massimo, Davidson's Executive Vice President. "We have carried products since the 1950's and have relationships that span decades, but we keep things fresh by offering our dealers products from manufacturers such as PolyCase who bring new innovation to an aged category."

Paul Lemke, CEO of PolyCase comments, "As a leading firearms distributor, Davidson's will be beneficial to the dealer as the perfect one-stop shop for purchasing Ruger ARX ammo. We look forward to growing the Ruger Ammunition line with Davidson's in such a well-established environment."
PolyCase manufactures and sells Ruger-branded ammunition loaded with PolyCase's patent-pending ARX bullet. The ARX is a specialized injection-molded non-expanding bullet, designed for home and self-defense, which uses fluid dynamics to impart maximum energy to soft-tissue targets.
For more information about Ruger ARX ammunition, visit www.ruger.com/ammo.
About PolyCase Ammunition:
PolyCase Ammunition develops, manufactures, markets, and sells world-class, patent pending, small arms ammunition and projectiles used by discerning professionals and sports shooters. Made in the USA, using over ninety years of advanced design, materials and manufacturing experience; our twenty-first century products are designed to provide the lethality and consistency expected by our customers. The PolyCase Ammunition team consists of experts in chemical, mechanical, advanced materials and industrial engineering, ammunition research, development, testing, and evaluation, precision manufacturing, marketing, and U.S. domestic and international sales. We have proudly partnered with other industry leaders to provide our deserving customers with ammunition manufactured using only the most efficient components.
For more information, visit: www.PolyCaseAmmo.com.