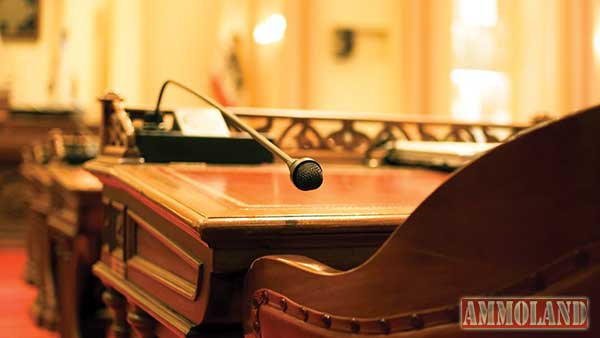 Fairfax, VA -(AmmoLand.com)- On Wednesday, April 27, the House Administration of Criminal Justice Committee will hold public hearings and vote on two gun control bills and one NRA-backed measure.
Your help is needed to defeat the proposed restrictions on your rights and to support the expansion of personal protection options for victims of domestic abuse.
Click Here to Take Action
House Bill 69, sponsored by state Representative John Bagneris (D-New Orleans), would create the crime of unlawfully transferring or selling firearms from or by a licensed dealer without a 10-day waiting period from purchase to delivery.  While exceptions are made for concealed carry license holders and law enforcement, the waiting period would apply to all other firearms transfers.
House Bill 101, sponsored by state Representative Barbara Norton (D-Shreveport) would create the offense of operating a motion picture theater without a metal detector or other electronic screening process for detecting (and ostensibly prohibiting) firearms carried by patrons.
The committee will also consider an NRA supported substitute for House Bill 176, sponsored by state Representative Valarie Hodges (R-Denham Springs), the intent of which will be to expedite the process for obtaining a concealed handgun permit by individuals who have had a protective order issued by the courts against an abuser.
The committee will meet at 9:30 a.m. in Room 6 of the State Capitol in Baton Rouge.
Please make plans to attend and sign up to speak or register your position on these measures by filling out a RED card in opposition or a GREEN card in support.
If you are unable to attend, make sure your voice is heard on these bills which impact your rights in Louisiana by clicking the "Take Action" button above!
About the NRA-ILA:
Established in 1975, the Institute for Legislative Action (ILA) is the "lobbying" arm of the National Rifle Association of America. ILA is responsible for preserving the right of all law-abiding individuals in the legislative, political, and legal arenas, to purchase, possess and use firearms for legitimate purposes as guaranteed by the Second Amendment to the U.S. Constitution.
For more information, please visit: www.nra.org. Be sure to follow the NRA on Facebook at NRA on Facebook and Twitter @NRA.