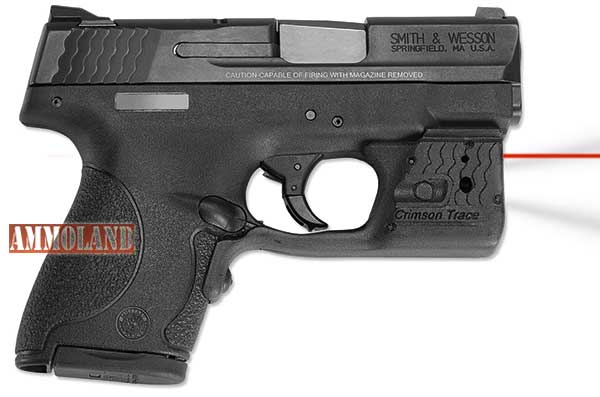 Wilsonville, OR – -(Ammoland.com)- Crimson Trace, America's leader in making laser sights standard equipment on all self-defense firearms, announces the release of the company's much anticipated Laserguard Pro.
This first in a series of new laser and light combination products is designed to precisely fit onto the trigger guard of Smith & Wesson's popular M&P Shield pistol. In releasing the new Laserguard Pro (LL-801(red) and the LL-801G (green)), Crimson Trace partnered with Smith &Wesson and Blackstone Shooting Sports in Charlotte, North Carolina.
"Blackstone's facility, with three state-of-the-art ranges, was the perfect place to show case the future of laser sights—the Laserguard Pro light and laser sight," says Eric Petterson, Crimson Trace Director of Engineering. "Valuable partners like Smith & Wesson and Blackstone help us share product information with our customers, and we were thrilled when these partners agreed to be part of this exciting new product introduction."
During the recent launch event, representatives of Blackstone, Smith & Wesson and Crimson Trace were on hand to answer the questions of media members covering the event and the many Blackstone customers who came to the range. Customers tested the new Laserguard Pro and other Crimson Trace laser sights along with several Smith & Wesson handguns—including the S&W Shield with Porting.
The new Crimson Trace Laserguard Pro features a red or green laser, is engaged with the company's exclusive Instinctive Activation, has a 150-lumen LED white light, and offers a master on/off switch. This laser sight and bright light can be operated in: laser only, light only, laser and light and laser and strobe light modes with an easy-to-operate selection switch. Laserguard Pros fit S&W M&P Shield pistols in calibers 9mm and .40S&W. This product is also covered under Crimson Trace's widely recognized Free Batteries for Life program.
Manufacturer Suggested Retail Prices are $279 for the Laserguard Pro LL-801 red laser sight and $370 for the LL-801G green laser sight. Blade-Tech holsters will soon be available for each Laserguard Pro and handgun combination.
Blackstone Shooting Sports' is one of the Southeast's newest gun ranges and features multiple ranges in a state-of-the art facility. The retail center sells a wide range of handguns and rifles, offers numerous classes for gun owners, and features a VIP lounge that hosts diverse events. More details are available at or by calling 704-414-6020.
Smith & Wesson offers a wide assortment of firearms for the concealed carry and hunting markets. Crimson Trace offers nearly two dozen products designed to fit on numerous S&W handgun models. Several of those laser sights are now offered with specially designed Blade-tech holsters in packages that offer significant savings to the shopper.
Crimson Trace is widely recognized as the world's leading brand of laser sight systems and tactical lights for firearms. All Crimson Trace products can be easily installed without requiring modification to the firearm—or special gunsmithing skills. The company offers more green laser sights for firearms than the rest of the firearms accessory industry combined. Full details on the 200-plus Crimson Trace products, and the Wilsonville, Oregon headquartered company, can be obtained by visiting www.crimsontrace.com or by calling 800-442-2406.
ABOUT CRIMSON TRACE:
Crimson Trace, the acknowledged industry leader for laser sighting systems and tactical lighting for firearms, is based in Wilsonville, Oregon. Its award-winning innovations include Lasergrips®, Laserguard® and Lightguard® –all with Instinctive Activation ™. The company's product line also includes the Defender Series® and Rail Master® platforms. More details are available at: www.crimsontrace.com or 800-442-2406.