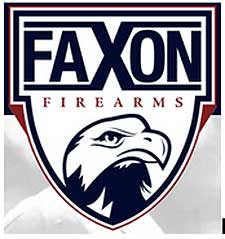 Cincinnati, OH -(AmmoLand.com)- Faxon Firearms, incessant innovators in the firearms industry, is pleased to announce the release of Houlding Precision billet Modern Sporting Rifle (MSR) receivers in custom Cerakote colors.
The Cerakote color on Houlding Precision upper receivers are set apart by a superior color application process. Cerakote is applied only after anodizing to maximize the durability and longevity of the receiver. Unlike other offerings where Cerakote is applied directly over virgin material, Houlding receivers have 60 Rockwell anodized aluminum under the coating to ensure a lifetime of high performance.
Houlding receivers are 100% CNC machined from 7075-T6 billet aluminum. Featuring hard angles, 3-D surfaces, extreme precision and tight tolerances, the receivers are visually striking. The picatinny rail features mechanically engraved T-marks for accessory placement and the barrel interface is guaranteed to be square. Houlding receivers feature forward assists and remove the dust cover. Uppers feature M4 feed ramps.
"We are extremely happy with the partnership with Faxon," remarked Todd Houlding. "They have been dedicated to bringing Houlding rifle products back to the market with the same dedication to quality, aesthetics, and features that made the brand so successful."

"We look forward to expanding the Houlding line of products under Faxon Firearms," said Bob Faxon, President of Faxon Firearms. "Todd's work on custom billet receivers and the carbon fiber Wraith rifle will continue with new product releases using the receivers as the heart of the line."
Faxon Firearms purchased Houlding Precision in early 2015 and moved the company and the Houlding family to join Faxon. Since then, Todd Houlding and the Faxon team have been working to create new products, refine and re-release Houlding offerings, and develop new patentable technologies for the Modern Sporting Rifle and other platforms.
Houlding MSR receivers will be available in individual stripped components or as a complete matched receiver set.
Available colors include:
Armor Black
Barrett Bronze
Burnt Bronze
Flat Dark Earth
Graphite Black
Olive Drab
Patriot Brown
Sniper Grey
Titanium
Tungsten
MSRP for upper and lower receivers are $209 each or $399 for a matched set in anodized black. As a reintroduction promo, Faxon and Houlding are offering free Cerakote upgrades for the first 25 matched receiver set customers. After the initial 25 orders, Cerakote will be offered as an optional upgrade for $39.99 for upper or lower receivers or $74.99 for the matched set upgrade.
For more information about Faxon Firearms, visit www.faxonfirearms.com. For press inquiries, contact Monica Arnold at [email protected].
About Faxon Firearms:
Faxon Firearms is a leader in constant evolution in the firearms and MSR marketplace. Faxon focuses on US-made quality and innovation. From the ARAK platform, GUNNER & FLAME barrels, MuzzLok (crush-washer free) muzzle devices, and now the Streamline series, Faxon offers quality complete rifle systems and components. New dealers are welcome.
For more information, visit: www.faxonfirearms.com.