by Doug Gilmer
10mm ammunition is just perfect.

USA -(AmmoLand.com)- The 80's television show Miami Vice featured colorful suits, fast cars, beautiful women, expensive boats, and guns.
Detectives Crocket and Tubbs took down the bad guys in style. While Tubbs was more conservative in his approach to firearms, a couple of snub-nosed 38's, Crocket introduced the world to the 10mm ammunition in the form of a Bren Ten.
Manufactured by Norma in the early 1980's, the 10mm was the idea of Col. Jeff Cooper who dreamed of a 40 caliber cartridge propelling 200 grain bullets at 1000 feet per second and generating 444 foot-pounds of energy. He envisioned the perfect handgun round for law enforcement.
Years later, Don Johnson, playing Sonny Crockett, would help propel Col. Cooper's idea into the mainstream.
After the infamous FBI Miami shootout where the agent's 9mm ammo underperformed, the FBI adopted the 10mm in a Smith & Wesson Model 1076. State and local agencies followed.
The original load, a 170 grain bullet at over 1300 fps, delivered over 600 foot-pounds of energy.
It wasn't long, however, before the large handgun and its accompanying recoil proved too much for some agents and officers to handle. 10mm ammunition was downloaded to a 180 grain bullet at about 950 fps. Smith & Wesson figured out the tamer ballistics could be duplicated in a more compact cartridge leading to the introduction of the 40 S&W.
Today the 10mm is to the 40 S&W what the 357 Magnum is to the 38 Special.
With the popularity of the 40 S&W as a law enforcement duty round, the 10mm shrunk almost to obscurity except for a small but dedicated group of followers aided by Glock's decision to keep their Glock 10mm guns in production.
Lately, the 10mm ammunition is making a resurgence. Glock, Sig Sauer, Kimber, Rock Island Armory, CZ, Dan Wesson, and EAA are just some of the companies building 10mm pistols. There are still some Smith & Wesson Model 610 revolvers and Ruger Blackhawks with 10mm cylinders around as well. Today 10mm ammunition is easy to find with boxes of 50 rounds (FMJ target loads) selling for $23 and sometimes less.
Is 10mm ammunition closer to the 357 or 41 magnum in power?
Paper ballistics with standard factory loads show the 10mm and 357 closely matched. However, Underwood, Buffalo Bore, and DoubleTap load the 10mm with 200 grain bullets at 1250 fps and 220 grain bullets at 1200 fps out of standard length barrels; serious power for a semi-automatic handgun. While the 357 is no slouch, the 10mm, with its bigger, heavier bullets, sits solidly in the 41 magnum's wheelhouse. The Taylor Knock-Out Value formula* bears this out.
This kind of power makes 10mm ammunition popular as a hunting cartridge. Whitetails, hogs, black bears and even bigger game are no match for the 10mm and well constructed 180 or 200 grain bullets. In my experience, the 180's are fine for deer but the 200 grain bullets take the 10mm to a new level of performance. I have hunted a great deal with the 10mm and am impressed with its accuracy, flat trajectory and down range performance. This past fall I took an adult doe at 35 yards with my Glock 40 10mm and a 200 grain Nosler bullet loaded by Underwood Ammunition. A 30-06 wouldn't have dropped her faster.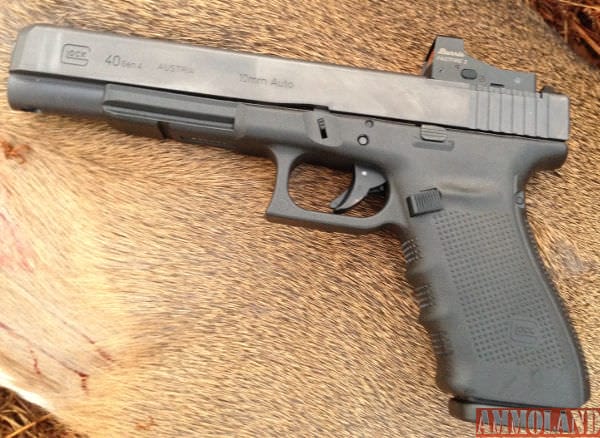 10mm Ammunition Is A Do Everything Cartridge.
With proper loads its recoil is easily managed. It has a solid track record as a self defense round. Quality defensive ammo in the 135 to 180 grain range is controllable while shooting but offers the ballistics and stopping power to make Col. Cooper proud. Some western law enforcement agencies still issue or authorize the 10mm for duty use. The 10mm easily handles medium to large game and it's seeing more use in Alaska with those who frequent the outdoors and are in need of lightweight, fast handling, easy to shoot, deep penetrating cartridge for defense against big bears. I carried my Glock 20 loaded with 220 grain hard cast bullets with me on several trips to the Last Frontier and never felt I was lacking in power for anything I might encounter.
10mm ammunition is an all around efficient and versatile cartridge. It may not be the best all-around self defense cartridge nor is it the perfect cartridge (if there is such a thing) for tackling big game. Still, it does both equally well within its limitations. If one could only own one handgun to cover duty from back alleys to the backwoods, the 10mm would be hard to beat.
*The Taylor Knock-Out Value is calculated by multiplying bullet diameter (i.e. .40) x bullet weight in grains x bullet velocity in feet per second, then divided by 7000. For example, (.40 x 220 x 1200) ÷ 7000 = 15.08.
About Doug Gilmer:
Doug Gilmer is a law enforcement and military veteran with over 25 years of experience and assignments operating throughout the United States and around the world in a variety of investigative, protective, tactical and direct action roles. He is an avid outdoorsman who enjoys fly-fishing, hunting with a handgun, backcountry adventures, and volunteering with various outdoor themed wounded warrior events. He has been a frequent contributor to outdoor media for for several years with numerous articles and photos published in a number of media channels. He is a member of the Professional Outdoor Media Association as well as a former board member and executive officer.