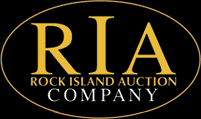 Rock Island, IL -(AmmoLand.com)- What a weekend! The June Regional Sale was large enough we actually debated whether or not to make it another four day affair.
Obviously, in the end we chose to jam pack three days with guns, and in turn collectors showed their appreciation by pouring in bids and scouring our online catalog for the next addition to their collection. With over 3,400 lots in three days, the summer sale saw a realized total of…Over $5.1 Million.
We are thrilled with the participation as well as the result. This amount was over the low estimate for the entire auction, and we couldn't have reached it without all our collectors, investors, and bidders showing up to take part in a weekend filled with guns and friends. A huge and sincere "Thank you" goes out to everyone who participated, shared, or otherwise helped us do what we do best.
Lot 2953: Don't call it a Jeep! Our AM General Corp AM151A2 military truck achieved the top price in the auction when it drove off with a lucky new owner for $14,950, flattening its $6,500 estimate
Lot 1: An engraved Winchester 1866 was one of 12 of the iconic lever guns in the sale, but this handsome example topped them all, bested its $4,000 low estimate, and rang the bell for $10,925.
Lot 2319: A U.S. Cavalry Colt Single Action Army revolver shipped on New Year's Eve of 1890 would certainly have impressed its original recipients with the $7,475 price it earned this weekend. It impressed us too, surpassing its $3,250 estimate.
To read more about the results and events of this auction weekend, please click here to view the write-up on our website. To view the prices realized for this auction, you may click here to search the catalog or click here for the PDF document.
Our Online Only Auction will take place on Friday, August 5th and the first 100 lots of the auction are already posted! Nearly 400 more will follow in the coming days. Also, please view the Photo Preview for our upcoming September Premiere Firearms Auction to be held September 9-11, 2016.
Thank you again for your business and have a great week,
Rock Island Auction Company
About Rock Island Auction Company:
Rock Island Auction Company is the world's #1 auction company for firearms, bladed weapons and militaria. Founded in 1993 by its current Owner and President Patrick Hogan, RIAC continues to set records for sales and to lead the industry with its extensive and beautiful marketing efforts. Their 86,000 square foot facility hosts 5 auctions each year. They actively seek consignments, be it a single weapon or a collection of hundreds, a thousand dollar item or one million.
For more information, please visit www.RockIslandAuction.com or call 1-800-238-8022.