As Charlotte burned, the Jim Crow-era bureaucracy denied gun purchases to the terrorized . . .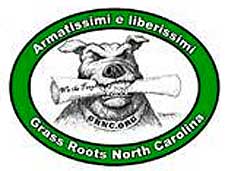 Raleigh, NC -(Ammoland.com)- Aficionados of Natural rights know that free citizens should not be forced to obtain permission slips from the bureaucracy before exercising their protected rights.
In fact, it has always been GRNC's position that archaic and shameful laws designed to deny citizens their rights, like the Jim Crow-era Pistol Purchase Permit (PPP), must be eradicated. With all of GRNC's moral arguments and its unceasing effort to eliminate the PPP system, never before has the need to discard this old-fashioned and embarrassing legality been so obvious—and so critical.
A Right Delayed is a Life put in Peril
As you may be aware, several counties around the state, including Mecklenburg County, have been using bureaucratic loopholes and high-demand for guns as an excuse to severely delay the issuance of PPPs and Concealed Handgun Permits (CHP).  Indeed, it is true that, "a right delayed is a right denied." However, in the context of a city ravaged by violent rioters, it should also be said that, a right delayed is a life put in peril. As a small but deviant portion of Charlotte's populace, reinforced by out-of-state agitators, attempted to raze Charlotte, law-abiding and rightfully terrified citizens lined up to purchase much-needed handguns to protect their families, only to be told, "no."
These citizens were told that they would be barred from purchasing defensive handguns until the weeks-long, and now often delayed, PPP and/or CHP process could be completed. The Sheriff and other law enforcement officials are paid to protect and serve the citizens, and thank goodness for the officers on the street. However, it is ironic that the law enforcement bureaucracy has been weighted to keep these same citizens from protecting themselves, particularly when the need is so immediate, and the situation so dire.
In the context of riots, where citizens are at more risk than ever and law-enforcement is overwhelmed, laws delaying the citizen's access to defensive weapons serve only to empower the thugs, thugs who seek to hurt these citizens and their livelihoods. This must end!
Below, see how you can easily contact NC's two contenders for governor. Remind them that you have not forgotten about this critical issue. Let them know that, even outside of the legislative season, this is an issue that is worthy of great attention, and gun owners will continue to monitor their actions on this; and actions after November will speak louder than words spoken before November.
Remind them that, ultimately, the requirement for PPPs and CHPs (government "permission slips") must be eliminated as a step toward genuine rights-recognition for law-abiding citizens in North Carolina.
About Grass Roots North Carolina:
Grass Roots North Carolina is an all-volunteer organization dedicated to preserving the freedoms guaranteed us by the Bill of Rights. Our main focus is the right to keep and bear arms. GRNC was central to drafting and passing North Carolina's concealed handgun law and since that time has continued to push for improvements to gun laws.
For more information, visit: www.grnc.org.