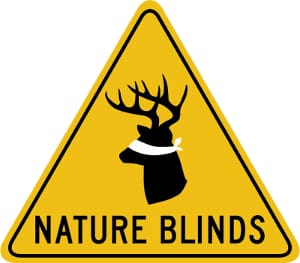 USA –-(Ammoland.com)- It's been said the devil is in the details, and it is Nature Blinds' attention to every detail that makes The HERO hunting blind seem like heaven. You'll never confuse a Nature Blinds product with the competition, and that goes for everything from the ultra-realistic natural look to the durable quality construction and the long list of hunter-friendly features.
One glance is all it takes to realize the HERO is unlike any hunting blind you've ever seen. In fact, you probably won't realize you're looking at a hunting blind. The HERO looks and feels like a mature oak trunk, blending into any environment, whether it's standing trees or an open field.
Made from high-density foam – the same material used in creating Hollywood movie scenes – the HERO performs even better than it looks. Thick walls stand up to the elements, sealing out rain and wind while keeping your scent from escaping to spook game. Even better, the thick material acts as an excellent insulator so you can hunt in comfort, even on the coldest and windiest days.
Inside, the HERO's carpeted floor helps reduce sound and keeps gear from sliding around. But the best feature is the silent-open windows that provide viewing and shot opportunities to almost any direction. A lockable door keeps out critters and unwanted visitors. If you hunt in snake country, the HERO could be your best friend!
The HERO is Nature Blinds' largest model and can comfortably accommodate two adults or an adult and two kids. It's perfect for children, keeping them comfortable throughout the entire hunt while concealing movement and deadening the sounds made by antsy youngsters.
Whether you hunt with a gun, a bow or a crossbow, the more time you spend afield, the more tags you'll fill. The HERO blind not only keeps you in the stand longer, it allows you to hunt rain or shine. The many vertical windows allow for comfortable shooting with any weapon, and the great looks blend into the environment while concealing movement.
The Nature Blinds HERO is so far beyond painted plywood and freezing box blinds that it needs its own category. But no matter what you call it, every hunter needs a HERO.
Nature Blinds The HERO Hunting Blind Features:
Multiple vantage points
Fully locking doors
Carpeted floor
Realistic Bark texture
Interior Height: 84″
Interior Diameter: 64″x60″
Made in the USA
To learn more, please visit www.natureblinds.com.
About Nature Blinds
Nature Blinds makes ultra-realistic HD hunting blinds, sheds, water tanks and wild game feeders from its location in Kerrville, Texas. Their unique manufacturing approach combines stunning artistic designs, state-of-the-art materials and processes, old-fashioned American Craftsmanship and Christian values.