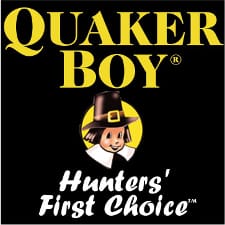 Orchard Park, NY -(AmmoLand.com)- The Full Tilt Quad call is the most versatile pot call ever designed.
The Variable depth chamber is teamed with a precision matched internal sound board, topped with four distinct calling surfaces.
Perfectly matched with the Wildwood Ash striker, the Full Tilt Quad produces the sweet and subtle morning hen chatter, yet has the ability to ramp up to extreme ringing rasp.
Four Different Calling Surfaces!
Deep & Shallow Sound Chamber!
Slate, Cordierite, Brass, Ceramic!
Wildwood Ash striker!
Item # 99408
MSRP – $34.99
About Quaker Boy, Inc.:
Quaker Boy Inc. is a manufacturer of wild game calls. Founded in 1976 in Orchard Park, New York.We pride ourselves on producing the highest quality and most innovative game calls in the industry.
For more information, visit: www.quakerboy.com.